Tap & Cap

Getting a great deal on board is easier than ever!

Want a flexible and cheaper way to pay?

Tap & Cap is for you.
Tap & Cap uses contactless payments to cap your travel charges so you'll never pay more than £3.50 a day or £12.50 a week, no matter how many journeys you make. If you're currently paying by cash or with contactless, moving to Tap & Cap could save you money on your bus travel. We accept payments on VISA, Mastercard, Apple Pay (Now with Express Mode) and Google Pay.

You Tap. We Cap. Easy!
Choose which contactless card/device you want to pay with and tap it on the ticket machine as you board the bus. There's no need to ask the driver for a ticket, just make sure you tap the same device each time you travel.

All single journeys made within Tap & Cap in the Southampton Zone will cost just £2.00. A second journey will cost £1.00 and a third and final cap will cost 50p taking the full daily price to £3.50 any other taps that day are free! Additional daily journeys made over a 7 day rolling period from the first tap will be capped at £3.50 until the weekly cap of £12.50 is reached.

It's easy to calculate: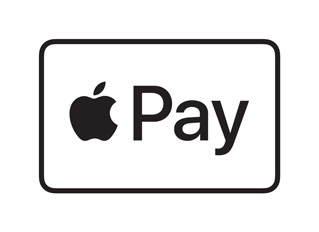 For those of you using Apple Pay, we are now accepting Express Mode on our buses. With Express Mode for Apple Pay, just tap the blue card reader with your device (iPhone or Apple Watch) when boarding the bus. There is no need to wake or unlock the device, open an app or use Face ID or Touch ID, easy and quick!
Tip: To make sure that the correct card is charged when you pay at a contactless reader, keep the card or device that you want to pay with separate from your other devices or physical cards.

How will Tap & Cap benefit you?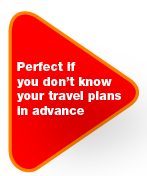 With Tap & Cap there's no need to work out which ticket you should buy, as we work out the cheapest on-bus fare for you. The price you pay is based on the number of journeys you make and will never be more than our Southampton Day ticket price or £12.50 a week. This way, if your travel plans change, you'll never pay for more travel than you need.

See how we work out what you get charged with Tap & Cap.
Once the cost of your daily journeys reaches £3.50, the price you pay is capped at this amount and you won't pay any more that day no matter how many journeys you make.
We'll also track your bus travel across 7 days and apply our weekly cap. So when the cost of your travel reaches the price of £12.50, the price you pay is capped again.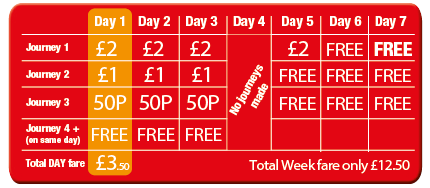 How can I check my charges?
With Tap & Cap we won't be issuing paper tickets. To keep track of your spending, click below to visit the transaction portal. Once you've logged in, you can see what journeys you've made and how much you've been charged over the past 90 days.

Is Tap & Cap the right option for me?
Anyone can use Tap & Cap to buy their day and week tickets. However, the Tap & Cap scheme doesn't apply to the purchase of Southampton PLUS and Hampshire day tickets.
You can view the Southampton Zone map here >>
FAQs
What is Tap & Cap
To pay for your ticket, place your card or mobile device onto the card reader as you board and wait for a beep that indicates your purchase has been registered. You must use the same card every time. It really is as simple as that!
If you want to pay with contactless for a ticket that is not available in Tap & Cap, please let the driver know before you place your card or device on the reader to ensure you are charged the correct amount and receive a ticket.
Tap & Cap uses contactless to guarantee our best on bus fares! Whereas contactless is just a payment method for your tickets, Tap & Cap guarantees that you will never pay more than the price of a day ticket, no matter how many journeys you make.
This is perfect for people who don't know their travel plans in advance, who may purchase day tickets for which they do not receive full value, or who end up buying two singles when they could have bought a day ticket. With Tap & Cap you will never pay more than you need to!
Tap & Cap is ideal for adults who purchase single and day.
Tap & Cap is not available for child, student, or group tickets. Tap & Cap is also not available for travel outside of the Southampton zone. If you are travelling outside the Southampton zone you will need to have a separate valid ticket for that part of your journey. The cost of this won't count toward your capped fare and will be charged as separate transactions.
No, but you can still buy multiple tickets with the same contactless card! To buy multiple tickets on the same card please ask to purchase the tickets from the driver.
No paper tickets are issued when you pay with Tap & Cap. Instead, your payment card acts as your ticket!
You will be able to keep track of your payments using our online portal.
Paying via Tap & Cap
Yes, but this will be based on the number of journeys you have made. The amount you will be charged is calculated in real time so if it is your 3rd tap that day, you will only be charged £3.50. All other taps made that day will be free.
You can check what you've been charged on our customer portal where each charge will be displayed individually.
When you use Tap & Cap, your card acts as your ticket. If you use more than one card or device for Tap & Cap, each will act as a separate ticket and will be entered into separate caps.
Absolutely, you can still use your contactless card for all types of tickets up to the value of £45. Tap & Cap just guarantees you our cheapest on-bus fare!
Unfortunately, due to the nature of contactless payments, our drivers will not be able to explain why a payment has failed. However, if for any reason a payment does fail, you can try a different card or pay using an alternative payment method, such as using an Apple or Google Pay-enabled device or purchasing a ticket via our First Bus App.
mTickets on the First Bus App are often cheaper than the on-bus equivalent, so why not buy before you travel?
Below are some of the more common reasons why a contactless transaction may have failed:
The card hasn't been approved by the bank for the transaction.
This can occur as a result of several contactless transactions in a short space of time, which can trigger automated fraud risk management policies with your bank or card issuer.
The card hasn't been used at a Chip and PIN terminal for a certain period.
Most banks and card issuers require a chip and PIN transaction every so often to help ensure it really is you using that card. Once a chip and PIN transaction has been seen by your card issuer, this temporary block will usually be removed.
More than one card or device has been detected by the reader at the same time.
If this happens the reader will not take any payment and the driver will be notified that no payment has been made. This is not a problem - simply make sure that only one card or device is presented to the reader and try again.
Current capped transactions will not be affected if a payment fails.
If you use a card for a payment which is subsequently declined for insufficient funds, unfortunately your card will be automatically blocked by our ticket machines.
However, we will try again to recover the money owed automatically after a few days or when you try to use the card again on our buses. As soon as the amount outstanding is settled with your bank or card issuer, your card will be unblocked by our ticket machines and you can make contactless payments on our buses once more.
Current capped transactions will not be affected.
Checking your payment history
Your journey will appear on our online portal within a few hours of purchasing your ticket.
General contactless queries
All Visa and MasterCard cards displaying the contactless symbol

, along with Apple Pay and Google Pay, can be used. Unfortunately, we do not accept payments by American Express or Maestro.
If you're using a pre-paid card, please ensure you have enough credit before trying to purchase your ticket. Failure to provide funds could result in your card being rejected.
Most contactless cards issued outside of the UK will be accepted on our ticket machines. However, if you find that your card doesn't work, please contact your bank or card issuer. Please be aware that cards issued outside of the UK may incur overseas transaction fees applied by your bank or card issuer.
From time to time, we authorise a payment for a nominal amount. This allows us to check with your card issuer that the card is valid and will be replaced by the full transaction amount in the next 24-48 hours.
The national limit for contactless payments in the UK has been increased to £45. Unfortunately, we're unable to process single contactless transactions above this value.
For purchases of more than £45 we recommend using mTickets on the First Bus App. For FAQs on mTickets click here.
Contactless payments are more secure than carrying cash for several reasons:
The information on your card is protected with secure Chip and PIN technology. Data transmitted during transactions is encrypted and protected with a digital signature that is much harder to forge than a handwritten one.
If your card is lost or stolen, you're protected against unauthorised payments provided you inform your bank as soon as you realise it has gone missing. Your card will be blocked immediately.
If your card does fall into the wrong hands, the maximum amount per transaction is £45, and after repeated payments, the person will be asked for a PIN. For payments over £45, authorisation is required, so nobody can make purchases above this value without your PIN or device passcode.
Each time your contactless device interacts with a payments terminal, it generates a one-time-only electronic signature and cryptogram, making it just as secure as a normal Chip transaction.
If your card does go missing, your bank may notice unusual spending patterns or locations and request a Chip and PIN transaction.
Customer Services and Help
If you're unsure about a payment showing against your card in the portal, or a journey has been registered on the portal that you do not recognise, just give our customer services team a call on 0345 646 0707 between 8am and 6pm Monday to Fridays. Alternatively you can contact customer services using our contact form www.firstbus.co.uk/help-and-support. Live Chat is also available in the app.
Unfortunately, our drivers are only able to cancel contactless transactions at the point of purchase. If you require a refund after the point of purchase, you will need to contact our customer services teams on:
Phone: 0345 646 0707 between 9am-5pm Monday to Fridays.
Or you can use our mTickets contact form »
For important extra information please see here:
*These tickets can also be bought with contactless or cash, but for our cheapest fares buy them on the First Bus App!