Get tapping: New contactless ticketing offers best value for City Red customers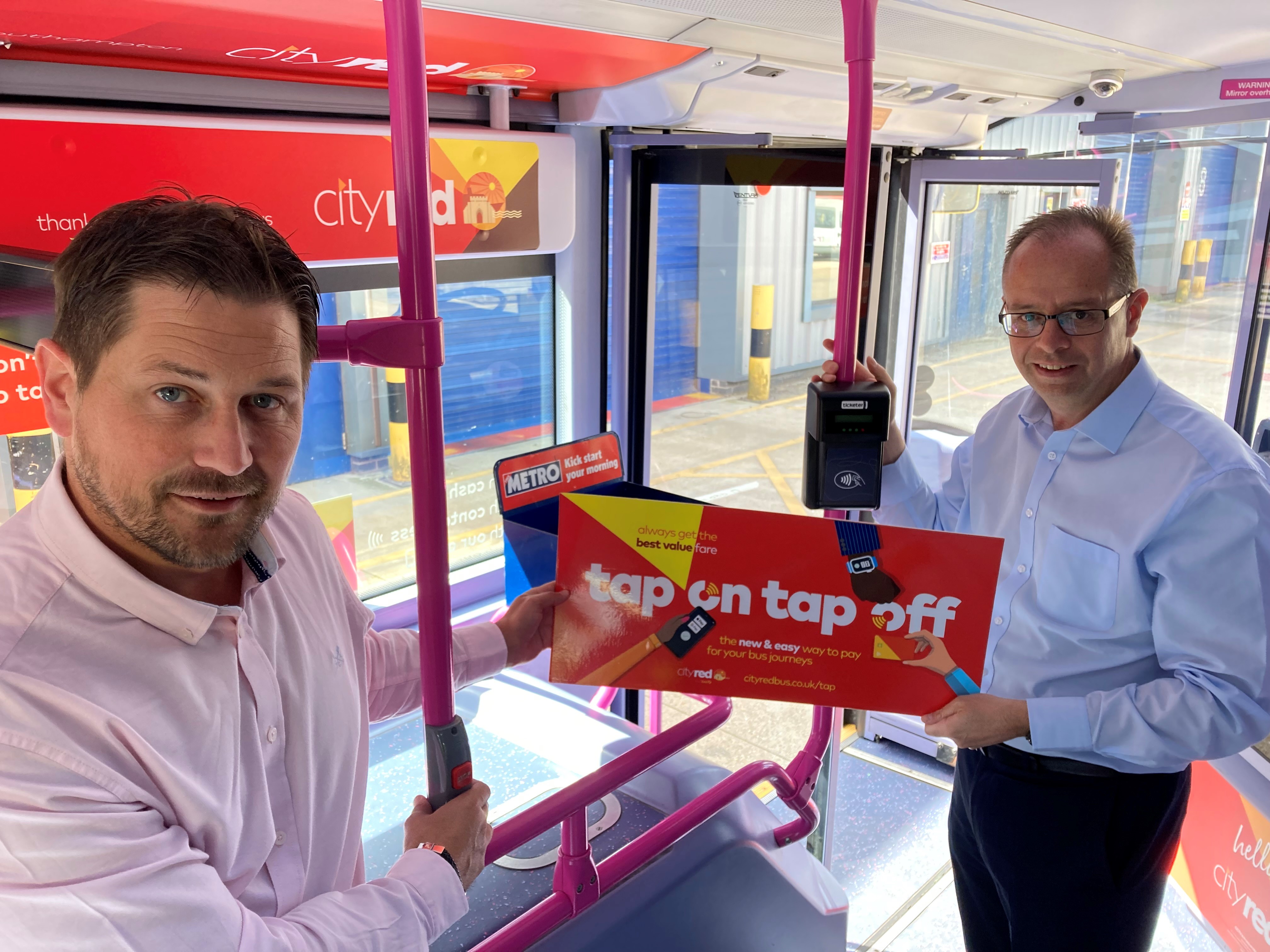 A new flexible, contactless ticketing system is set to save City Red customers in Southampton time and money effortlessly from today, Tuesday 12 July. Instead of having to ask for tickets, customers can now use their contactless device - bank card, smartphone or smartwatch - to tap on when they board the bus and also tap off when they leave. As long as people remember to tap off, the system will automatically work out the best and cheapest fare.
The system means that no one pays more than the daily or weekly cap, regardless of how many trips they make. If the journey is only one short hop, then the fare will only be for that journey. A beeping sound and green lights tell the customer that they have tapped successfully. Customers can keep track of what they've spent by going to the new City Red Tap On Tap Off webpage cityredbus.co.uk/tap .
Customers should only use one device on one day, for example, a card or phone or watch, to avoid being charged more than once.
The speedy 'Tap On' transaction will continue to make boarding quicker, leading to shorter journey times.
Marc Reddy, managing director of First Hampshire Dorset and Berkshire, said: "At a time of rising costs for customers, in particular fuel costs, we want to help by offering the best value for travel in and around Southampton by City Red bus. Whether customers use the bus every day, make more than one journey in the day or travel a few days a week, Tap On Tap Off will ensure everyone automatically gets the best and most cost-efficient ticket without any bother. This proves yet again that getting around our city is greener and cheaper by bus than by car."
Tap On Tap Off, which replaces Tap & Cap, can also be used on Solent Ranger services X4 & X5 within the Southampton zone. 
John Clarfelt, Ticketer's Founder, comments: "We are excited to see First go live with a further roll out of Ticketer Tap Off Readers. Having worked closely with the First team to ensure a smooth implementation, we are delighted that their customers in Southampton will now be able to benefit from an enhanced, yet simpler, ticketing and fare calculation system."