Coronavirus - COVID19: Service information
Last updated: 18/10/2021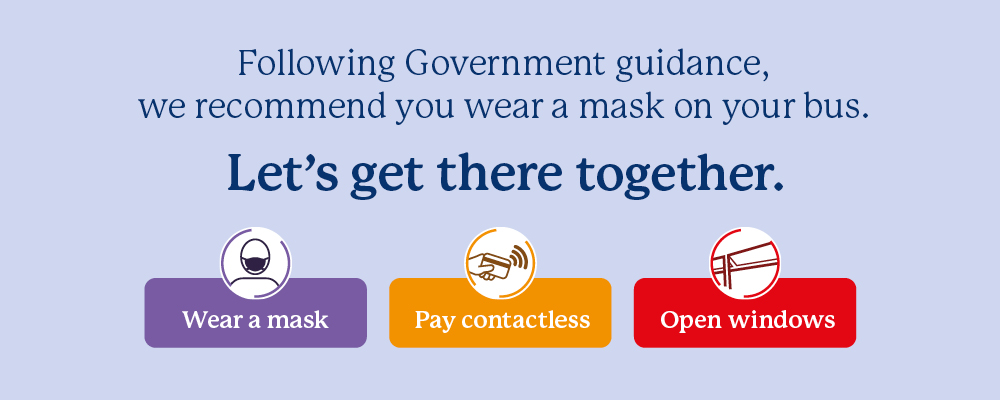 Lockdown restrictions easing on Monday 19 July
Following The Government's announcement on lockdown restrictions easing from 19 July, we wanted to take the opportunity to remind you of some of the measures we have in place to keep our customers safe when travelling on our buses, so here's a guide for when you get on board. 
Wearing masks
We are following government guidance and recommend all customers wear a face mask whilst on board. Please remember that not everyone may wish to wear a mask.
Ventilation & Cleaning
We will continue to ensure that all windows are left open for additional ventilation in addition to our enhanced cleaning regime which will remain in place to keep you and others around you safe.
Social distancing
All seats will be in use from Monday 19 July and our buses will return to full capacity making sure we can take you to where you need to go.
Paying for your journey
Where possible avoid the use of cash and continue to use contactless on board or buy in advance using our mobile app. 
Over the coming days we'll be updating the Covid related content on our websites.
---
Changes to City Red 3 Timetable
The Monday to Friday City Red 3 peak service will have additional running time to improve punctuality. 
---
We are making fare changes in Southampton
We are making changes to some of our fares in Southampton for the first time in two years.
From Tuesday 19 October, some fares will change or be withdrawn and a new evening return fare introduced. All single and return fares remain unchanged, along with Tap & Cap, which uses contactless payments for travel charges so customers never pay more than the price of a day ticket or week ticket, no matter how many journeys you make.  There are some small increases in some weekly and monthly tickets and we are streamlining the number of tickets we sell to make it simpler for our customers.
While we have kept our fares in the city unchanged for a considerable period of time, like many businesses we now need to adjust some of those fares.  Where we have had to make small increases, we believe our prices still represent outstanding value for money. We have also undertaken a comprehensive review of our ticketing structure to hopefully make it simpler for you, our customers, to navigate the best value and most convenient option.
Here are details of all those adjustments.
Price changes:
• Southampton Week (on the bus and on the app) goes from £9 to £10. The last time this fare changed was in December 2019 and, at £10 a week, it still represents one of the best value weekly ticket prices in the country.
• SouthamptonPLUS Adult Month (on the app only) changes from £66 to £68. Please note that a Child version of this ticket is not available.
• SouthamptonPLUS Adult Week (change on the app only) goes from £19 to £20 to match the on the bus price. 
• SouthamptonPLUS Child Week (change on the app only) will change from £15 to £16 to match the on the bus price.
Evening fares after 6pm:
• We'll now be offering a £2 evening return fare to complement the popular £1 single fare. This is available from 6pm every evening, and across all zones. 
• The £1 evening single fare will also be available in the Southampton Zone through Tap and Cap as well. Therefore, if you tap your contactless card or device after 6pm, the charge will be £1. 
In addition to the above, we're simplifying the range of tickets, with the following less popular tickets removed from sale from 19 October:
• Southampton 3-Month, SouthamptonPLUS 3-Month, Southampton Annual, SouthamptonPLUS Annual, all removed from sale.
• Southampton Month removed from sale on the bus and now only available on the app with the price unchanged at £39.
• SouthamptonPLUS Month removed from sale on the bus and now only available on the app. The new price is £68.
• Southampton Week Child removed from the app. The Southampton Week ticket is the replacement for both Adult and Child and the new price is £10.
Please also note that tickets will no longer be available to buy from PayPoint outlets.
---
Day Ticket (FirstDay) Southampton zone ticket price to be aligned from Monday 6 September 2021
From Monday 6 September, we're simplifying the way you can purchase our FirstDay Southampton zone ticket.
If you currently purchase a day ticket (FirstDay) for the Southampton zone online, on our buses or from the First Bus app, the price will be the same at £3.50 from Monday 6 September.
When we launched our Tap & Cap facility we introduced an initial promotion of a daily cap at just £3 (instead of the normal day ticket price at £3.50). From 6 September this initial offer will end and the daily cap will be revised to the day ticket price of £3.50.
These changes provide consistency for daily travel, is excellent value for money and if using Tap & Cap, always ensures you get the best value ticket for your journey.
There will be some minor changes to how Tap & Cap works and more details are available here.
---
Getting to Southampton vaccination centres by bus
Our bus services across the city serve the following vaccination centres:
| | |
| --- | --- |
| General Hospital | City Red 3 |
| Adelaide Health Centre/Western Community Hospital | City Red 2 (Redbridge Hill Bus Stop) |
| Royal South Hants Hospital | City Red 7 |
| Chessel Avenue Surgery, Bitterne | City Red 8, 9, 13 |
| St Peters Surgery, Woolston | City Red 6, Solent Ranger X4/X5 |
| Totton Football Club | City Red 1 (Testwood Crescent Bus Stop) |
For the current timetables please click here.
We've got each stage of your journey covered so that you can arrive safely at your destination.
Before you travel
Use the First Bus App to journey plan and buy your ticket
Use our Space Checker tool to find when your bus is less busy
Please bring a face covering as it is advisable (but not mandatory) to wear one from 19 July 2021
Bring hand sanitiser
We encourage our customers to download the NHS COVID19 App
At the bus stop
Use the First Bus App to track where your bus is and the number of free seats available
Put on your face covering before you board the bus
When your bus arrives, please allow space for passengers to leave the bus before you step onboard
Get you payment method ready – mTicket on the First Bus App , contactless card, concessionary pass or the exact change
On board
We encourage customers to make cashless payments to avoid cash handling
Our windows need to remain open to maintain airflow
We have increased our cleaning regime, but please help by not eating or drinking on board and remove any rubbish when you leave
---
We're here for you
Contact us by phone 0345 646 0707 (9am to 5pm Monday to Friday) or contact us via Twitter 7am to 7pm Monday to Friday or 9am to 6pm on weekends and bank holidays.
For further COVID information, our question and answer section plus key worker feedback click here.

---
Important information and links:
Please visit the NHS website for up to date information on Coronavirus (COVID-19).
The latest information on the current situation can be found online and is updated by the Government.
---
Ticket Refund Queries
At present, our services are still operating and tickets are purchased in line with our Conditions of Travel. However, the latest guidance on ticket status can be viewed on our help and information page here (FAQ section).
For important extra information please see here: