Coronavirus - COVID19: Service information
Last updated: 06/05/2021
Useful FAQs are shown further down this page ⇒

Coronavirus information – Southampton
In light of the national lockdown: The current message is to stay at home, our buses are still running for essential journeys. Our staff are working very hard to ensure that you can travel with confidence across our services. Any updates or service changes will be listed further down this page.
---
Revised times for City Red 7 from Sunday 16 May 2021
From Sunday 16 May, the timetable for City Red 7 will be revised to improve punctuality.
Please click here to view the new timetable.
Getting to Southampton vaccination centres by bus
Our bus services across the city serve the following vaccination centres:
| | |
| --- | --- |
| General Hospital | City Red 3 |
| Adelaide Health Centre/Western Community Hospital | City Red 2 (Redbridge Hill Bus Stop) |
| Royal South Hants Hospital | City Red 7 |
| Chessel Avenue Surgery, Bitterne | City Red 8 |
| St Peters Surgery, Woolston | City Red 6, Solent Ranger X4/X5 |
| Totton Football Club | City Red 1 (Testwood Crescent Bus Stop) |
For the current timetables please click here.
We've got each stage of your journey covered so that you can arrive safely at your destination.
Before you travel
Use the First Bus App to journey plan and buy your ticket
Use our Space Checker tool to find when your bus is less busy
Please bring a face covering as it is mandatory to wear onboard at all times, unless you are exempt. Click here for exemptions
Social distancing limits the bus capacity to 50%, so please allow additional time for your journey during peak times
Bring hand sanitiser
We encourage our customers to download the NHS COVID19 App
At the bus stop
Use the First Bus App to track where your bus is and the number of free seats available
Please social distance from other passengers waiting too.
Put on your face covering before you board the bus, it is a legal requirement unless you are exempt
When your bus arrives, please allow space for passengers to leave the bus before you step onboard
Get you payment method ready – mTicket on the First Bus App , contactless card, concessionary pass or the exact change
On board
We encourage customers to make cashless payments to avoid cash handling
It is a legal requirement to wear a face covering, unless you are exempt otherwise you could be fined up to £200.
Please follow the social distancing sashes to show you where to sit
Our windows need to remain open to maintain airflow
To assist others less mobile, please sit upstairs on double deckers
We have increased our cleaning regime, but please help by not eating or drinking on board and remove any rubbish when you leave
---
We're here for you
Contact us by phone 0345 646 0707 (9am to 5pm Monday to Friday) or contact us via Twitter 7am to 7pm Monday to Friday or 9am to 6pm on weekends and bank holidays.
For further COVID information, our question and answer section plus key worker feedback click here.
The majority of our services are running and we have made changes to our services to better support key workers, and to help manage reduced capacity due to the social distancing measures we have in place following Government guidance. You can view the latest timetables further up the page.

Support for disabled passengers remains the same as before coronavirus, see here for more details ⇒

We offer our full support to wheelchair users who want to travel with us.  While many of our seats are blocked with signs or tape, our wheelchair spaces remain available. All our buses have a dedicated area for wheelchair users; other passengers are required to give up the space for wheelchair users. Please ask the driver for assistance if you require any help. If the driver needs to leave their cab to provide passenger assistance they will wear a face covering.

Wheelchair users have priority over everyone else for the use of the designated wheelchair space, since this is the only place in which they can travel safely.
If the ramp is required please keep a 2 metre distance whilst the driver puts the ramp in place.
The driver will keep the time they are within 2 metres of you to an absolute minimum.
On our buses we are operating at a reduced capacity with around 1 in 4 seats being available. It is therefore likely that that you might see 'Bus Full' signs as some services reach their revised capacity more quickly.

If you are waiting at a bus stop and the bus drives past, it is likely it has reached its reduced seating capacity. If the bus does stop, but is near capacity, the driver will only allow one person to board for every person that gets off, so you may need to allow extra time for your journey and be prepared to wait. With the latest version of the First Bus App you can now track your bus live on a map and it also displays how many seats are available on each bus.

In addition, you will also see further measures in place to help you to adhere to social distancing guidelines. These include:
New capacity signs by the entrance of each bus
Seat signs and tape to clearly show where you should/shouldn't sit to maintain a safe distance
Reminders to be considerate of other passengers
No longer allowing standing
Seat signs will show where you shouldn't sit:

Capacity signs by the entrance of our buses. This will show the maximum passenger capacity for each bus: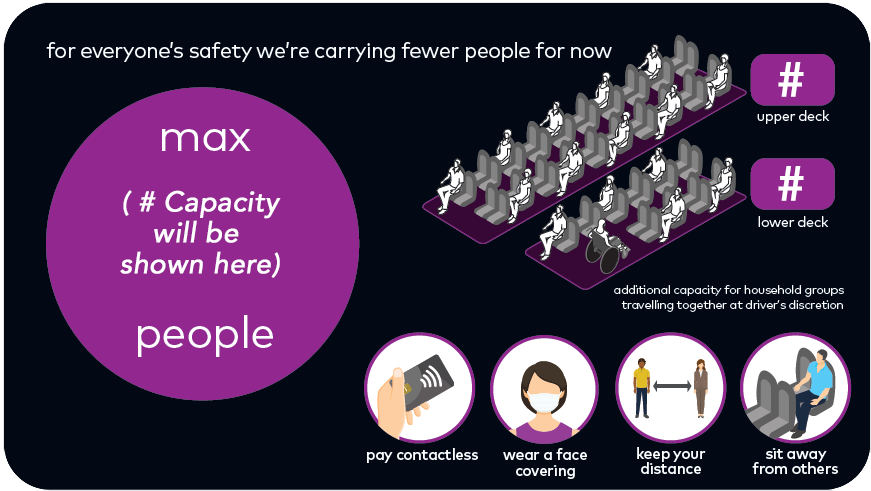 Our drivers will advise customers wherever possible but they cannot enforce social distancing measures.

Please note the seating measures we have introduced are advisory for customers and we will not be asking our drivers to enforce them or leave their cab area, unless operating the manual bus ramp. Our driver will help advise customers when boarding where seats are available.

We'd also value your help in staying up-to-date with the latest coronavirus information from the NHS or Department of Health and Social Care websites.
Wash your hands with soap and water frequently for at least 20 seconds.
Use hand sanitiser whenever soap and water are unavailable.
Cover your mouth and nose with a tissue when you cough or sneeze, and place the tissue into the bin straight away.
We encourage all customers to switch to contactless payments and purchasing tickets via our Mobile app where possible.

We appreciate your assistance in helping to limit the spread of coronavirus.
It is your legal responsibility to wear a face covering when travelling on public transport unless you have an exemption. The driver cannot enforce this but you may be liable to a fixed penalty notice of £100 if you refuse.

Our buses are comprehensively cleaned every night by our expert team of cleaners, including regular disinfection of all grab rails and poles, entrance door handles, window ledges and other touchpoints.  We use a long-lasting sanitising treatment (Zoono Z71) on all buses and depots, which kills germs on surfaces. It is environmentally-friendly, uses no alcohol or dangerous chemicals, and is proven to be a highly effective antimicrobial surface sanitiser.

No, customers should use their own sanitiser and face covering.

There is usually sufficient capacity on our buses but it's best to plan your travel in advance. Our busiest periods are in the middle of the day, so it is best to travel in the morning and late afternoon. This will help ensure we provide our services to as many customers and key workers as possible while adhering to social distancing guidelines.

With the latest version of the First Bus App you can now track your bus live on a map and it also displays how many seats are available on each bus.

We also advise that you try to travel before the last service of the day, to avoid the risk of the last service bus being full. We will not be able to run extra buses after the last service bus.

We advise that you try to travel before the last service of the day, to avoid the risk of the last service bus being full. We will not be able to run extra buses after the last service bus, and you may have to arrange alternative transport.

All travel shops are currently closed.  For customer service enquiries you can call us on 0345 646 0707.  Our lines are open from 9am to 5pm Mon-Fri. Our quieter times are usually between 11am and 3pm so you may prefer to call then as there will be less of a wait to speak to one of our Customer Support Agents.

If you prefer, you can fill out the contact form here instead ⇒  We will get back to you as soon as we can but please be aware that for lost property enquiries our response time is usually within 3 working days  for all other enquiries this could take up to 14 days.

---
Important information and links:
Please visit the NHS website for up to date information on Coronavirus (COVID-19).
The latest information on the current situation can be found online and is updated by the Government.
---
Ticket Refund Queries
At present, our services are still operating and tickets are purchased in line with our Conditions of Travel. However, the latest guidance on ticket status can be viewed on our help and information page here (FAQ section).
For important extra information please see here:
For important extra information please see here: