Neath Port Talbot College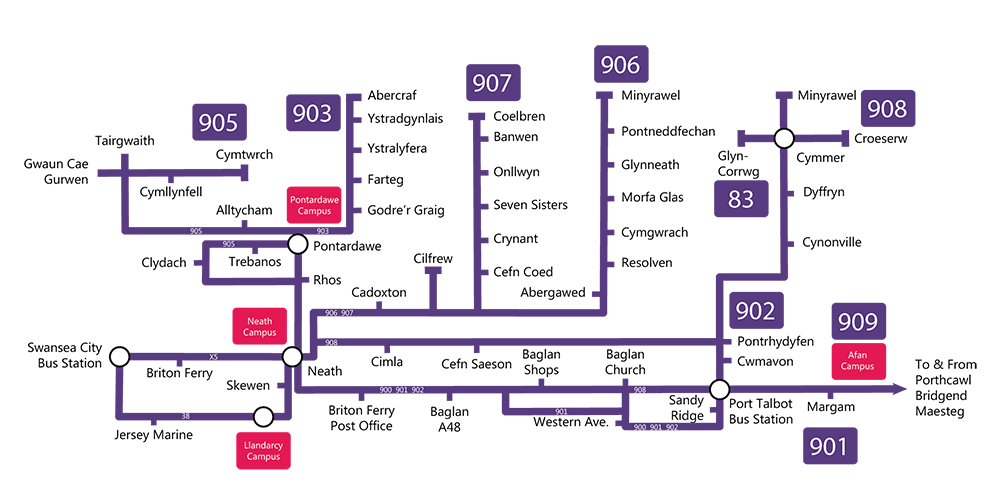 | Services for Neath Port Talbot College | Services |
| --- | --- |
| Neath Campus | 900 | 901 | 902 | 903 | 905 | 906 | 907 | 908 | 909 | X5 |
| Afan Campus | 83 | 87 | 909 | X1 |
| Llandarcy Campus | 38 |
| Pontardawe Campus | 903 | 905 |
Passes for the NPTC Group of Colleges
Tickets can be bought on your phose using our mticket app which is available free from the app store or from google play. (Search FirstBus mtickets).
If you're aged 16-21, also sign up for mytravelpass to save money.
What is mytravelpass?
mytravelpass is a discounted travel scheme funded by the Welsh Government providing people in Wales aged 16 to 21 with 30% discount off their bus travel. To sign up and save - visit mytravelpass.gov.wales
Buy a NPTC Academic Year Pass for £460 for unlimited travel in the Swansea Bay area or £307 with mytravelpass.
A term ticket is £150.00 or £100 with mytravelpass
OR you could buy a FLEXI5 ticket for all-day travel on the date of activation. £19 for 5 tickets, or £13 with mytravelpass
IMPORTANT: For 16-21 passes, a valid mytravelpass must be shown to the driver along with the mticket for travel or the ticket is not valid and a fare will be required.
When can I use it?
Academic Year Passes can be used at anytime on any day during the academic year (including weekends and college holidays)- So that's your leisure travel covered too!
Term College Passes are valid to and from college during term time only on college days until 2000.

College website: www.nptcgroup.ac.uk
---