See What We're Doing with your Feedback.
We've introduced 'Tell First Bus' so you can tell us how you feel about travelling with us in First Cymru and to help us improve our service.
Our online feedback form is available 24/7 and you can access it on any device here. And to prove that we really are listening, have a read below about some of the great changes we're making in First Cymru based on the feedback YOU have given.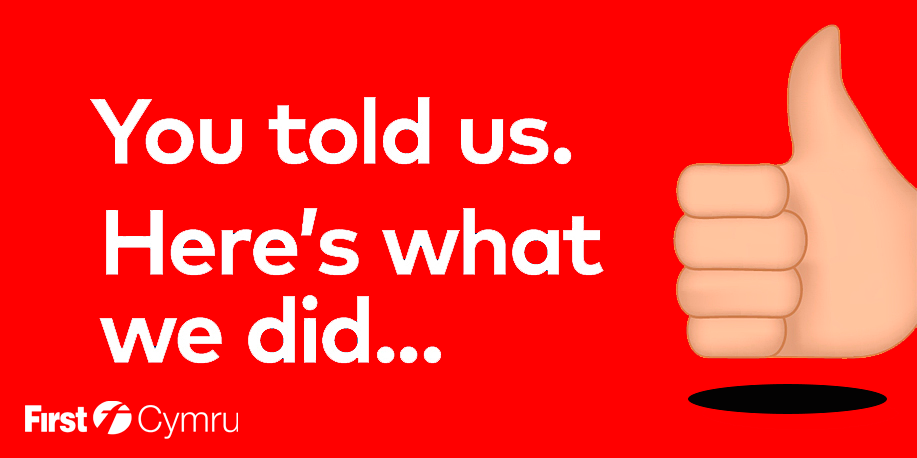 | | |
| --- | --- |
| You said…  | We did… |
| Service X2. In our recent survey, you told us that you would prefer services to run via Cardiff Bay instead of Ely. | Service X2 now runs via Cardiff Bay - convenient for commuters and visitors to the events and attractions. |
| Flexi5. You told us that you wanted to see the ticket available in areas other than Swansea. | We've now introduced Flexi5 tickets for Bridgend & County and for Carmarthenshire. |
| Mobile Tickets. You told us that you wanted more tickets to be available on your mobile phone. | We've added extra tickets to the app, including those for Swansea to Cardiff service X10. Many tickets bought on the app are cheaper than those bought on bus. |
| You told us that service 10 was becoming unreliable at peak times during student holidays. | From 16 June 2019, Monday to Friday University Holiday timetable peak time journeys will be adjusted. |
| You wanted us to make changes to service 14 so that it is easier to use. | As a result of working in partnership with local representatives and customers, the Monday to Saturday route and timetables will be revised to operate hourly and via the full route (Bishopston) in both directions from 16 June. |
We want to hear from you!
If you've got a minute or two, we'd really appreciate it if you too can tell us how we're doing. We're working hard to give you the best bus service possible, so let us know what we're doing well or if there's something not quite right.
Although we won't be able to send you a personal response, rest assured we'll read all your comments. Your views really matter, so please complete the form and share the good, and the not so good stuff - we're all ears.
---