University of Stirling


First Bus proudly serve University of Stirling from our Bannockburn Depot. We work closely with the University to help staff and students get from A to B.
You can travel to Stirling University on services: Uni-Link, 51, 52, X53 and 54.
---
On Friday 1st July Bannockburn depot will operate special night service U50 for University Graduation Ball.
Special £2.50 flat fare for U50.
Please click here to see timetable.
---
What to know before you travel:
Ways to Pay: We still accept cash on board, but there are a number of cashless ways to pay available:
- Contactless Card Payments.
- Express Mode for Apple Pay.
- Buy tickets on the First Bus App, where you can store tickets on your phone and scan as you board your service.



Flexible Ticket Options: We offer a number of flexible ticket options on The First Bus App for those who do not need to travel every day.

First Day Ticket Bundles come in ranges 3, 10 or 15 days and can be activated when you need them! The remaining tickets will be stored on your phone until next time. Click here to find out more.




Check out our product range offering customers greater flexibility and value when they travel by bus.

Click here to view changes to our Stirling University Tickets.
Click here to view the fare zones within our network.
Stirling University Carnet tickets offer 10 single trips as a bundle. These single trips can be activated when required, and the remaining tickets will be stored in your mobile wallet until you next need to travel.




---
How much does it cost?
Below we've listed the prices for tickets when you buy them on the bus, and when you buy on the First Bus App. We froze our fares from last year on the app so that you can access the cheapest tickets when you download it.
It means you store tickets on your phone to scan when you get on the bus and you can activate them when you need them.
---
Travel with First Bus
We've introduced a number of tools to make your journey with First Bus even simpler!
First Bus App - In addition to planning your journey and buying your tickets on your phone, you can now check live seat availability on your bus before it arrives at your stop! Our app is free to download.
Space Checker - Busy week ahead? Our Space Checker tool allows you to plan ahead and check the time of day that your service is likely to be at it's busiest and choose a quieter time to travel. Try Space Checker here.
Enhanced Safety Features - Find out more about steps we've taken to ensure you can travel by bus with confidence! Including our recent accreditation as 'Good to Go' from Visit Scotland! Learn more here.
---
Where can I travel by Bus?
Check out the unilink map below to see the route and where you can travel to.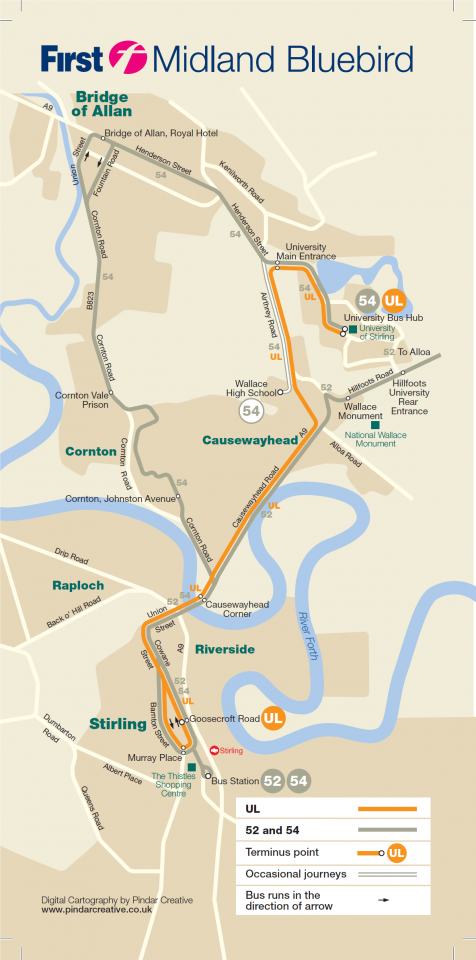 ---
The Important Stuff
Don't forget who you are: You'll need your matriculation card to use your First students tickets and you cannot travel without it - No excuses! So for great value bus travel think TICKET and MATRICULATION CARD and off you go!