Alloa engineer calls on more women to join the bus industry this International Women's Day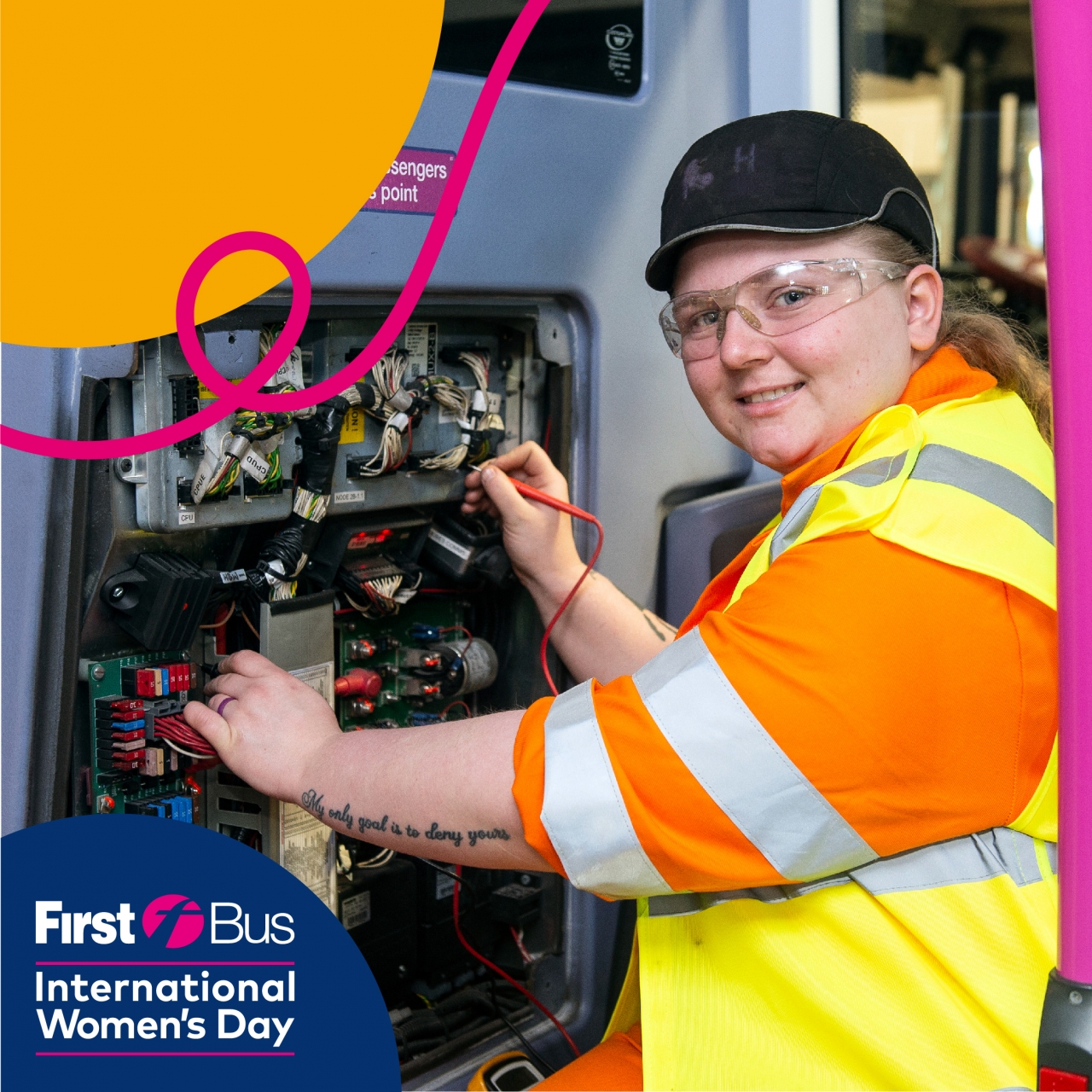 An Alloa bus engineer is encouraging more women to take up roles in the bus industry this International Women's Day as First Bus seeks to recruit more women into the company. 
Katie Hannam, 25, works as an auto electrician at First Scotland East's Bannockburn depot. She started out as an apprentice when she was just 19 years old and was then the youngest worker on the site.
Now, after nearly seven years in the role, Katie is keen to put the stereotypes to bed that working as a bus engineer is a 'man's job'.
Katie said: "I was always very handy as a kid and would help my parents out with fixing their cars from a young age. When I applied to First Bus I absolutely aced my interview and tests, and was hired the next day!
"I'll admit, it was still pretty daunting. The team I met at my induction was made up entirely of men, and all of them were from a completely different generation to me. It was surreal. I had it in my head that they'd see me and think 'What's this young girl doing here?' and not take me seriously – I just didn't think I'd fit in.
"But I needn't have worried. The guys were all great and I've made some great friends on the job – and have shown them how to do things along the way!"
Since working at First Bus, Katie has now completed her four-year apprenticeship and has spoken at a STEM conference at a local college to encourage more girls to take up roles in engineering.
Katie added: "It was great, not just answering the questions of those deciding on their career paths, but also meeting other speakers who stuck at what they were interested in and didn't care about joining a 'male-dominated' industry.
"I'd love to see more girls take up role in engineering and in the bus industry. The job is challenging, and no two days are the same. Fixing these giant vehicles is no small feat but that's what makes it so rewarding - there's a lot to get out of it."
Andrew Jarvis, Managing Director for First Bus in Scotland, said: "If you look around any of our depots, there'll be, without doubt more men than women - but this is not a man's world and we want to play our part in getting rid of the harmful stereotype that says that working in our industry  is a 'man's job'.
"With each year, there are more women joining our workforce, and they bring so much to our company. It's fantastic to be achieving more of a gender balance and whilst we're not there yet, we're definitely heading in the right direction. "With every recruitment drive we do, we'd love to see even more female applicants – from drivers, to engineers, to electricians, we're confident that more women can find a great career at First Bus."
In 2020, First Bus re-invigorated its focus on Equality, Diversity and Inclusion (EDI), joining forces with an external expert partner to carry out a full 'EDI health check' of the business, seeking to understand what the bus company does well and what could be done better.
As part of this, First Bus is keen to understand much more than policies and ways of working - it aims to listen to its colleagues' experiences in order to create a strategy and action plan that will truly make a difference. First Bus believes that this will help  its workforce to feel, heard, valued and included.
For more information about a career with First Bus, click here: https://www.firstbus.co.uk/about-us/news/women-first-bus