Bus Driver Recruitment Event - Wednesday 17th August at Winchburgh

Wednesday 17th August 2022 - 9am to 3pm
Winchburgh – Niddry Road beside the Almond Group Medical Practice EH52 6RX
We're looking for trainee and PCV bus drivers who love to go the extra mile.   Join our team today.
Is it time for a career change? Ever thought about being a First Bus bus driver? We are having a Recruitment Event in

Winchburgh – Niddry Road beside the Almond Group Medical Practice EH52 6RX on Wednesday 17th August 

9am to 3pm.

 

Come along and meet the team you will be working with on our recruitment bus and learn about all the great benefits of working for First Bus. All you need is to be aged 18 or over and bring your driving licence.

We have vacancies for drivers (PCV & trainees) on our commercial services and our hop-on hop-off open top tourist service in Edinburgh Bright Bus Tours.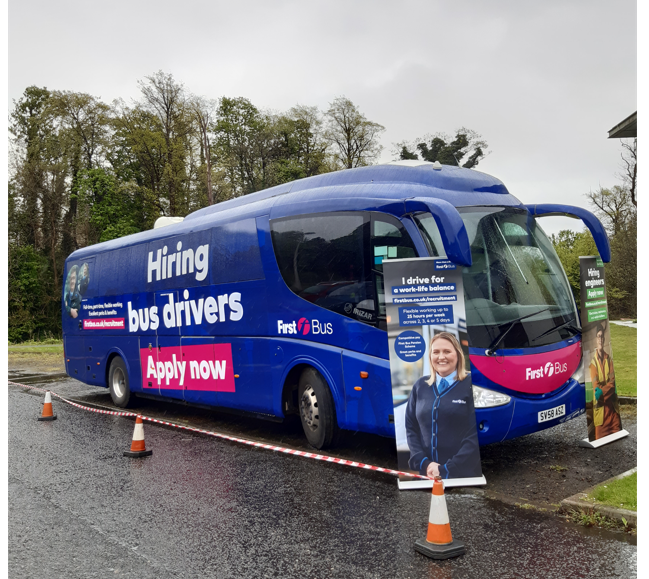 Why join First Bus:
Competitive salary
• As a Trainee driver you will earn £11.00 per hour (£22,000+ per year) which will go up to £12.10 per hour after training (approx 3 weeks)
• PCV Holders will earn £12.10 plus a £1,975 sign on bonus (T&Cs apply)
Flexible working
• Shifts available over 2, 3, 4 or 5 days
• Part-time roles up to 25 hours per week
• Full-time roles from 38 hours per week
• Overtime available
Holidays
• 28 days of paid holidays per year.
FREE bus travel for you & your family
• An Adult annual pass is £1,080, so you and your partner will save £2,160 per year on bus travel.
Share scheme
• Pre-tax pay to buy shares in FirstGroup plc & get two free shares for every three shares you buy up to the first £30 per month.
Pension
• Auto-enrolment into a company pension scheme, which includes life insurance.
It only takes a couple of minutes to apply and then we will call you in for an interview.
Click here for more information about our part-time roles at our Livingston Depot.
Click here for more information about our full-time roles at our Livingston Depot.
For positions at our Bright Bus Tours service (Edinburgh open top tourist bus), click - Driver (PCV holder) & Driver (Trainee)