About us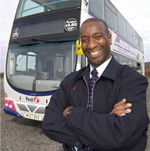 At First we are dedicated to offering good quality, safe, affordable and accessible services to millions of passengers who travel with us every year.
We run direct links to all of the major towns and cities in the East of Scotland, including inter-urban links between Central Scotland and Glasgow.
First in Scotland East employs more than 1,000 staff in both driving and support roles and we operate over 420 buses carrying more than 22 million passengers a year.
Our network in Scotland East has many interchange points to allow you to connect with other First services and we have invested millions of pounds in new buses - this year alone we are spending more than £6 million on the latest state-of-the-art Euro IV engined vehicles - the most environmentally friendly buses currently available.
We work in partnership with local authorities and other agencies to provide up to date information for passengers and offer a broad range of tickets with something to suit all.
Our head office is based in Larbert, near Falkirk, First also operates nine other depots across the East of Scotland.
Alternately, if you want more information on FirstGroup, go to our homepage.
Company details:
First Scotland East Limited. Registered in Scotland No. SC091923. Registered office: Carmuirs House, 300 Stirling Road, Larbert, FK5 3NJ.
Conditions of Travel
If you would like to read our Conditions of Travel please click here