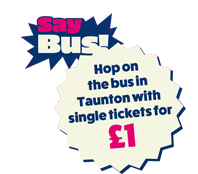 Say Bus!
Travel around Taunton for a pound!

Endless fun awaits! With single tickets from just £1 it's never been easier to SAY BUS!
Great news! Get out and about in Taunton with single tickets for just £1. Whether you're meeting up with friends for a coffee, attending a cricket match or exploring your favorite spots - be sure to save on driving and spend the saved cash on something you love!
---
If your journey requires multiple buses to reach your destination the £1 single fare will not cover the entire trip, as you would have to purchase the £1 single fare for each bus you use. Please check your fare before traveling as purchasing separate £1 single fares may still be the cheaper option.
The £1 single fare offers excellent value for money and can be paid on our buses by contactless devices (bank card, smartphone or smartwatch). If paying by cash and to help our staff, it would be appreciated if the exact fare is tendered.
---
Traveling outside of Taunton? As part of the Help for Households initiative, the £2 single fare is available on any bus route that Buses of Somerset operates in this area. For more information please see here.
Say Bus to great days out in Taunton
Taunton Brewhouse Theatre and Arts Centre
Enjoy some of Somerset's best shows and entertainment at Taunton's largest theatre and arts centre. Click here to discover what is on.
The Cooper Associates County Ground
The official home for Somerset County Cricket club - whether you're watching T20 or planning a whole day to watch test cricket. Click here to see what matches are on.
The Museum of Somerset
Discover over 400 million years of history from prehistoric times right up to the present day. The museum is located in the 12th-century great hall of Taunton Castle. The museum is also home to the Somerset Military Museum. This is certainly a must to visit. Discover more here.
Taunton Minster Church (tallest tower in Somerset)
Look up to the tallest tower in Somerset at Taunton Minster Church of St Mary Magdalene. The tower which was built in the 15th and 16th centuries stands at an impressive 163 feet! Find out more here.
---
Download the First Bus App for busloads of helpful tools - plan your adventure with our Journey Planner, track your bus live on a map, or buy your bus ticket before you travel.