There's plenty of festive fun to be had with First Somerset!
Whether you're looking for the best hot chocolates in town, searching the city for Christmas presents or heading to your local theatre to enjoy a classic panto with family..."He's behind you!!"... you can do it all and more with a £1 Single bus ticket within Taunton or £2 for the rest of Somerset!
The £1 and £2 single fares offer excellent value for money and can be paid on our buses by contactless devices (bank card, smartphone or smartwatch).
---
Discover Christmas in Somerset

Watch a festive show at the Tacchi-Morris Arts Centre
This year, Tacchi-Morris Arts Centre's annual panto will be Robin Hood! Prepare to be captivated by the enchanting story of Robin Hood, where all your favorite characters come to life in a spellbinding panto filled with magic, music and comedy. Get ready for a night of non-stop laughter and entertainment for all ages!
The show is running from Friday 8th December through to Thursday 21st December, with a relaxed performance on Tuesday 12th December at 6pm.
For more information and to book your tickets click here.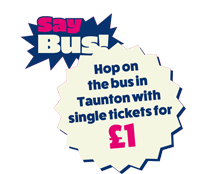 Get to the panto for just £1 each way per person! Save on the stress of parking and catch our service 21 and 21A. Find out more here.
A Country Christmas at Dunster Castle
Experience the enchanting castle adorned in all its festive glory, just as the Luttrells once reveled in during their time there. Stroll through the halls and immerse yourself in the beauty of the embellished trees and exquisite natural garlands, meticulously crafted by Dunster's skilled garden team using plants sourced from their very own gardens. Take a moment to relax and indulge in some delightful games within the Morning Room, or venture into the Hat Room where you can unleash your imagination and discover the delightful knitted robbins playfully concealed throughout various rooms.
For opening times and more information - click here.
Wander around Clarks Village Christmas Market
Immerse yourself in the enchanting atmosphere of the annual Christmas market, where wonder and delight await at every turn. Whether you're hunting for that perfect gift, having a bite to eat with a cheeky Baileys hot chocolate or simply looking to get into the festive spirit. the market guarantees an experience that will leave you feeling festive!
And why not add a touch of magic to your festive day out by gliding..or wobbling across the ice rink!
So grab yourself a bargain and make sure you do not miss out! The market is open from the 24th November through to Christmas Eve. For more information click here.

Glastonbury Frost Fayre
Immerse yourself in the enchanting spectacle of Glastonbury Frost Fayre, a grand local celebration of seasonal splendor where the entire community unites to embrace the 'peace and goodwill' over the festive period. Discover Santa's merry little helpers as they spread cheer throughout the event, while delighting in the captivating melodies of talented buskers and live street performers. Experience the magic of live performances across five stages, and watch as the market square Christmas tree illuminates in a dazzling display during the Christmas light-switch-on ceremony. Children can revel in the excitement of fairground rides, creating cherished memories that will last a lifetime.
The fayre will take place on the 25 November 2023
Click here for more information.
---

Download our FREE First Bus App
Have everything you need to travel at your fingertips:
Plan your festive journey
Buy your tickets on the app
Track the bus to your stop