Current Bus Service

 Page updated 09/04/21
PLEASE NOTE THAT ALL CONCESSION CARD RESTRICTIONS ARE SUSPENDED. YOU CAN USE YOUR CARD AT ANY TIME!
Our services are currently operating to revised timetables -  View revised timetables
Are there any imminent timetable changes?
As we ease out of Lockdown we continue to operate revised timetables across our network. A service uplift to coincide with the start of the school term on April 19th is currently being planned. Further details on these changes can be found here
 
A reminder that all dedicated school and college services across the Buses of Somerset area will operate up to and including Thursday 1 April and will resume again on Monday 19 April.
Please take care of yourselves x
---
BUSES OF SOMERSET would like to thank you for your continued supoort
A huge thank you to all our customers who have continued to use our services.  Our staff have worked tirelessly to help you keep moving and you can be assured you can move confidently with Buses of Somerset.
We're continuing to run as many buses as possible to ensure you can continue your day-to-day travel, subject to government travel guidance. Due to staff isolating there may be an occasion where short notice cancelations are unavoidable.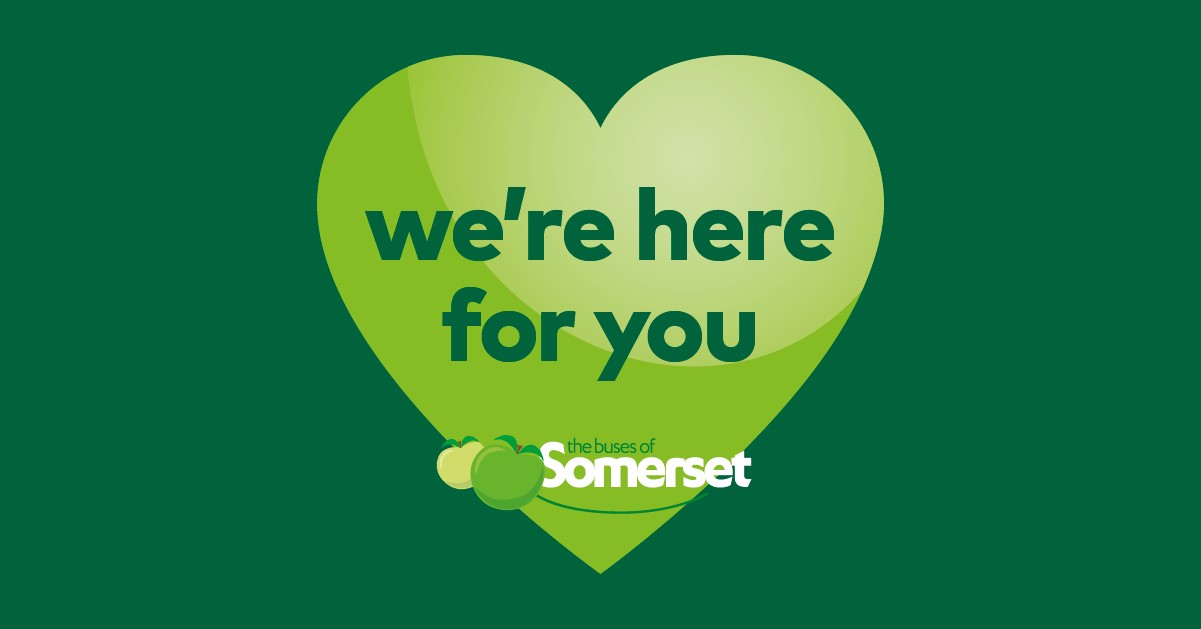 ---
We've got each stage of your journey covered so that you can arrive safely at your destination:
At the bus stop
Why not use the First Bus app ⇒ to track where your bus is, and reduce the amount of time you're waiting at the bus stop.
You can also see how many seats are available on the bus so that you're confident there is plenty of space to travel, or if you are not time restricted you may wish to catch a later bus which is less busy.


.

When waiting at the stop, please ensure you socially distance from other passengers waiting too.
 
Face coverings must be worn on our buses unless exempt, otherwise you could be fined up to £200. For details of exemptions in your area please see the FAQ's below.
 
When the bus arrives, please allow time and space for passengers to leave the bus before you step onboard.
 
If you are waiting at a bus stop and the bus drives past, it might have reached its reduced seating capacity. If the bus does stop, but is near capacity, the driver will only allow one person to board for every person that gets off, please make sure to allow extra time for your journey and be prepared to wait. With the latest version of the First Bus App you can now track your bus live on a map and it also displays how many seats are available on each bus.
 
Get your bus ticket or payment ready, whether it's activating your mTicket, having your concessionary pass, contactless card out or ensuring you have the right change. It all helps speed up boarding and minimise the time with your driver making it safer for everyone.
 
On board
Face coverings must be worn on our buses and throughout the journey unless exempt, otherwise you could be fined up to £200. For details of exemptions in your area please see the FAQ's below.
 
We encourage passengers to make cashless payments to avoid cash handling, however cash will be accepted where this is not possible. If you need to use cash, we would be very grateful if you could provide the correct fare for your journey. If the driver has no change they will issue you a credit voucher for use on your next journey. 
 
Please follow the social distancing sashes and stickers that have been added to the seats to show you where you can sit and help maintain social distancing. If the bus has few passengers on board, we ask that you spread yourself out on the vehicle to give everyone as much space as possible.
 
To assist those less mobile, on double deck vehicles please sit upstairs if possible when spaces are limited.
 
We know the temperatures are starting to drop, but it's really important that windows on the bus remain open to assist air flow. If you get on the bus and notice a window has been closed, please open it to help us maintain this.    
 
Please refrain from eating or drinking on board and please take any rubbish with you to assist with keeping our buses as clean as possible.
 
We've increased on-bus cleaning, particularly regular disinfection of touch points such as handrails, poles and window handles. For more details on our enhanced cleaning programme, please see below.
FAQs
Our drivers may not be wearing a face covering or mask while driving as this can be distracting, particularly for those who wear glasses, as there is a risk these get steamed up while driving. The cab has a protective screen to separate the driver and passengers. If a driver is required to leave their cab to assist a passenger, a face covering will be worn.
Our drivers will advise customers wherever possible but they cannot enforce social distaning measures. Please note the seating measures we have introduced are advisory for customers and we will not be asking our drivers to enforce them or leave their cab area, unless operating the manual bus ramp. Our driver will help advise customers when boarding where seats are available.
We're here for you
Please tell us if you are concerned that our service changes since COVID-19 don't meet your travel needs: key worker feedback ⇒
We're absolutely committed to being there for our customers and you can contact us by phone on 0345 646 0707 between 9am to 5pm, Monday to Friday and we're available on Twitter 7am until 7pm Monday to Friday, and 9am-5pm weekends and bank holidays. Please see our Help and Support page for contact details. You can also message us localy on Facebook. 
Keeping you updated
To help us communicate quickly and easily with you, register your details with us here:
.
.
.
Thank you for your continued support.
.
---