Coronavirus - COVID19: Service information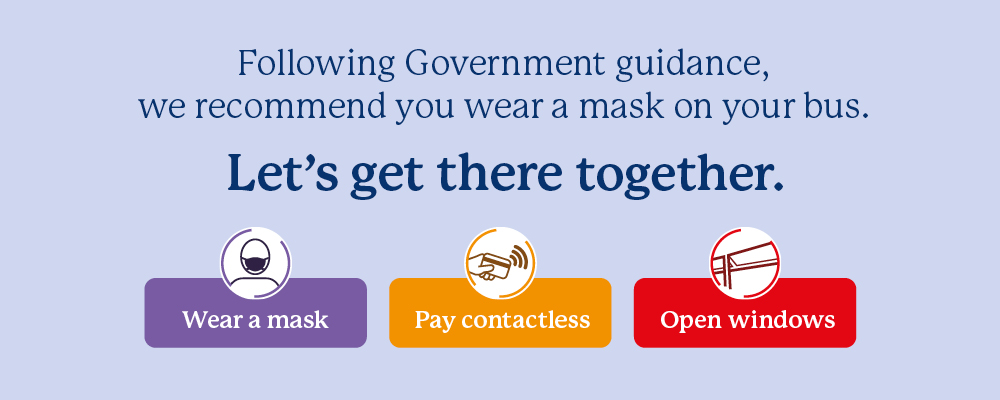 We are doing everything we can to ensure you can travel with confidence. Following the Government's announcement on lockdown restrictions easing from 19th July in England, we would like to remind you of some of the measures we have in place to keep our customers safe when travelling on our buses.
People should continue to follow public health measures to protect one another. Government guidance in England ⇒
---
Wearing masks
We are following government guidance and recommend all customers wear a face mask whilst on board. The government now "expects and recommends that people wear face coverings in crowded areas such as public transport."
Ventilation & Cleaning
We will continue to ensure that all windows are left open for additional ventilation in addition to our enhanced cleaning regime which will remain in place to keep you and others around you safe.
Social distancing
In England all seats will be in use from Monday 19th July and our buses will return to full capacity making sure we can take you to where you need to go.
Paying for your journey
Where possible avoid the use of cash and continue to use contactless on board or buy in advance using our mobile app.
First Bus App: Not only can you buy your tickets in advance, but you can plan your journey, check live bus times and track your bus live on a map. You can see how far the bus is from your stop and how many seats are free. If you haven't already got it you can download it here. ⇒
Pay Contactless: To avoid handling cash, go contactless and pay either with a contactless card, Google or Apple Pay. More details here. ⇒
---
Travelling on our buses
Before you travel:
Use the First Bus App to plan your journey and buy your ticket
Use our Space Checker tool to find out when your bus is less busy
We are following government guidance and recommend all customers wear a face mask whilst on board
Bring hand sanitiser
We encourage our customers to download the NHS COVID19 App
Our  buses are now operating at normal capacity, but you're encouraged to keep your distance from other customers wherever possible
At the Bus Stop:
Use the First Bus App to track where your bus is and the number of free seats available
Please social distance from other passengers waiting too
Put on your face covering before you board the bus - we recommend all customers wear a face mask whilst on board
When your bus arrives, please allow space for passengers to leave the bus before you step onboard
Get your payment method ready – mTickets on the First Bus App, contactless card, concessionary pass or the exact change
On Board:
We encourage customers to make cashless payments to avoid cash handling
Following government guidance, we recommend you wear a face covering on board our services
Our  buses are now operating at normal capacity, but you're encouraged to keep your distance from other customers wherever possible
Our windows need to remain open to maintain airflow
To assist others less mobile, please sit upstairs on double deckers
We have increased our cleaning regime, but please help by not eating or drinking on board and remove any rubbish when you leave
---
Are your bus services changing?
From 19th July, we are making some changes to a small number of our services:
Route X5: Sheffield - Dinnington
Route X54: Sheffield – Harthill
These routes have new timetables to improve reliability – there are no changes to routes or frequency, but we've made adjustments to react to changing travel times. X5 journeys between Sheffield and Broomhill will no longer operate – please use alternatives on route.
School services numbered 400-499 (except 409/12), 600-799 won't be operating over the summer holidays. Many of these journeys are replaced/extended with a normal service – you can see these in our timetables >> marked as 'school holidays only'.
Please continue to check this page for further updates. Our staff are working very hard to ensure that you can travel with confidence across our services. 
What services are you currently operating?
You can see all services in operation on our current timetables page here >>
For information on school services, click here >>
Who can travel on your services during the latest lockdown?
Our services remain availble for anyone who needs them - if you are flexible with when you can travel, please use our Space Checker to help plan a journey at quieter times.
Are you making any changes to safety measures onboard?
We have worked hard to ensure it's as safe as possible to travel on our buses:
We are following government guidance and recommend all customers wear a face mask whilst on board
Our enhanced cleaning regine continues
Please ensure you respect your fellow passengers by:
Putting your face covering on before boarding, ensuring it covers your nose & mouth - please keep it on for your whole journey
Maintaining social distance
Using cashless payments, wherever possible or buying in advance through the app (we'll still take cash & give change if you need to use cash)
Keeping windows open to help with ventilation (sorry, we know it's chilly!) 
Downloading the NHS COVID-19 app and keeping it active on board - find out more >>
What assistance is provided for disabled passengers?
Support for disabled passengers remains the same as before coronavirus, see here for more details ⇒
We offer our full support to wheelchair users who want to travel with us.  While many of our seats are blocked with signs or tape, our wheelchair spaces remain available. All our buses have a dedicated area for wheelchair users; other passengers are required to give up the space for wheelchair users. Please ask the driver for assistance if you require any help. If the driver needs to leave their cab to provide passenger assistance, they will wear a face covering.
Wheelchair users have priority over everyone else for the use of the designated wheelchair space, since this is the only place in which they can travel safely.
If the ramp is required, please keep a 2 metre distance whilst the driver puts the ramp in place.
The driver will keep the time they are within 2 metres of you to an absolute minimum.
What tickets are available?
Our full range of tickets (excluding most group tickets) is available.
Concessionary passes are valid for free travel after 0930 Monday-Friday and all day weekends.
---
Please watch our videos for information and advice for travelling on the bus during the coronavirus situation:

 

Travel safely on our buses: Social distancing and travel information: Video ⇒
Face coverings: Video ⇒
First Bus App: Know where your bus is and how many seats are available: Video ⇒
Social distancing information for customers who are visually impaired: Video ⇒
---
For our general information please see our main Coronavirus information page »
View our Coronavirus risk assessment >>
This page was last updated on 19th July 2021