Message from the Managing Director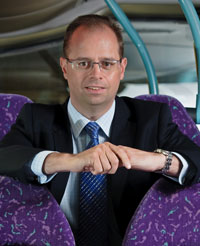 Welcome to the First Portsmouth website, which includes services in Waterlooville, Fareham and Gosport.
This information consists of timetables, maps, tickets and the new Journey Planner to make your travel with us as pleasant and easy as possible.
We are immensely proud of the services we now operate across the Solent area in Portsmouth, Waterlooville, Fareham and Gosport.
Millions of passenger journeys have already been made on both our iconic bus fleets, Eclipse Services E1/E2 and The Star Services 7/8 since they started operating.
Our network of services are also designed to connect with other public transport hubs, including Fareham Railway Station and the Gosport Ferry.  This we hope will encourage more people to consider using our services rather than their cars on the area's already busy roads.
In the past year, we've invested more than £4 million in our Solent fleet with 24 brand new buses for The Star Services 7/8 in a new 'Portsmouth' themed blue livery. 
In order to make your journey as easy as possible, most of our buses are fitted with a system that announces the name of the next stop as you travel on your journey.
This helps customers who are new to the area to know where to alight and also for our regular customers who may be engrossed in a book.
Please use our website, which is regularly updated, to plan your travel with us.  Do contact us if you have any comments or cannot find the information you need. We do value feedback from customers in order to continually improve our services for you.
Marc Reddy – Managing Director