'Out Out' for £1 - Norwich Evening Special Fare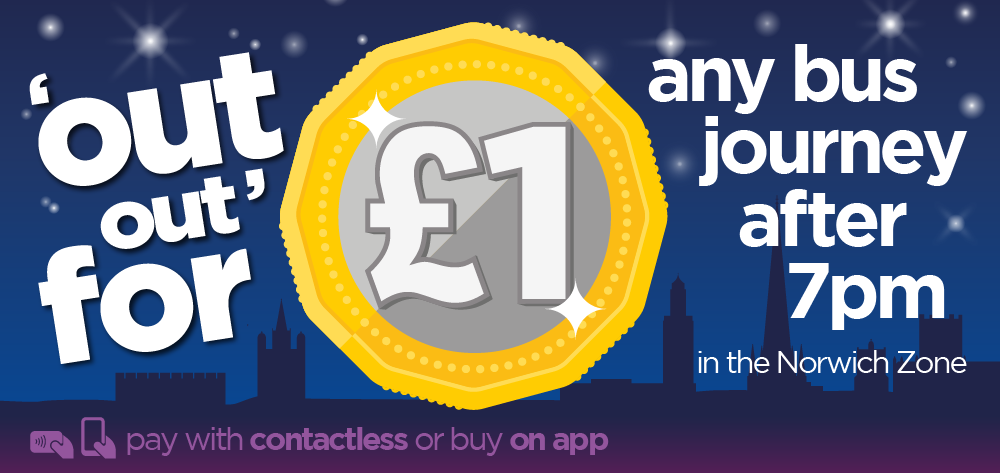 As the summer comes to an end and the nights start drawing in, we've got a fantastic offer to help you rediscover some amazing evenings out in the city this Autumn.
Whether you're getting back to the atmosphere of the big screen at the latest blockbuster movie at Riverside, exploring a new cuisine with a delicious meal at one of the city's unique eateries in The Lanes, reliving the fun of the summer with your mates over some great craft beer in NR3 or digging out your dancing shoes to hit the clubs, you can now get 'out out' for less with any bus journey for just £1 after 7pm, anywhere in the Norwich Zone.
Yes, that's absolutely any single journey for just £1 on any Network Norwich bus, anywhere across the city after 7pm, seven days a week. 
And you can even take advantage of this bargain fare to get to and from the city on board our comfy and direct Coastlink buses from Acle, Beccles and Worlingham or our super-swish excel buses from Dereham.
You can buy your 'out out for £1' evening special ticket in advance on the First Bus App or when you get on the bus using your contactless card or device. And we still accept cash on board but the exact fare is best.
Many of our services run late into the evening meaning you'll be able to get out and back again for as little as £2 per person, or if you fancy heading out before 7pm then simply buy a normal price single fare (or use one journey on a 10-trip ticket), and get your £1 special fare home again.
And if you're a more of a night owl you can save money too, by jumping on the first bus after 7pm on your way into the city for just £1 each, keeping your taxi fare ready for the ride home again.
This fantastic offer is available every day from Monday 4th October for a limited period only so get 'out out' for less while you can.
You can see how far our 'out out for £1' evening single fare can take you here =>
Or you can check bus times for your service here =>
And don't forget to download our FREE First Bus App to plan your journey, buy your ticket in advance and track your bus in real time.  It's even got a live capacity checker tool too!
---
Make any single journey for £1 after 7pm, anywhere in the Norwich Zone on any First Eastern Counties bus service. £1 tickets are available on the bus where payment can be made in cash or by contactless card or device or in advance on the First Bus App (see note below).
£1 tickets can be used by any class of passenger, adult or young person.
This offer runs from 4th October 2021 until 28th November 2021.
Important Note regarding mTicket purchases:  'Out Out for £1' tickets can be found in the Norfolk & Waveney area of the First Bus App, in the Norwich category.  Tickets can be purchased at any time but will only be accepted by our ticket machines for travel when boarding the bus after 7pm (1900 hrs) until the end of service.  Unused tickets can be found in your 'Ticket Wallet'.  Please DO NOT activate these until immediately prior to travel as they are only valid for boarding within 15 minutes of the time of activation (once on board, they are valid for your entire journey, however long).  Any tickets that have expired, for whatever reason, cannot be accepted for travel.