Covid-19 Update

Ipswich Park & Ride is returning from Monday 12th April 2021
After a further suspension due to the Coronavirus pandemic, Park & Ride in Ipswich will start again on Monday 12th April as retail reopens and leisure visitors to Ipswich continue to increase as a result of the relaxing of the lockdown measures.
Both car parks (at Martlesham and London Road) will be available for use.
Buses will operate to the normal timetable and route - with buses up to every 15 minutes from either car park and returning from the town centre between approximately 0700 and 1900 on Mondays to Saturdays.  You can download your timetable leaflet here.
Fares & tickets will remain unchanged.  However, we ask all passengers to pay with contactless or with an mTicket on the First Bus App rather than using cash.  Cash will be accepted for those who need to use it.
Buses will be able to carry a reduced number of people due to social distancing measures.
There will be enhanced cleaning at the car parks and on the buses both before and after service, and during the day.
Passengers must wear a face covering (unless they have a valid exemption) on park and ride buses, and inside the terminal buildings at Martlesham and London Road.  You can find more information on wearing face coverings on board public transport here.
Passengers are asked to maintain a 2m social distance from others when waiting for the bus and using any of the site facilities.

There is a temporary reduction in car parking spaces available at the London Road Car Park.  There are around 100 spaces available positioned nearest to the bus stop and terminal building, as shown on the map below which should be sufficient to cope with initial demand when the service returns.  Unfortunately, there will be no designated disabled parking spaces available at the present time.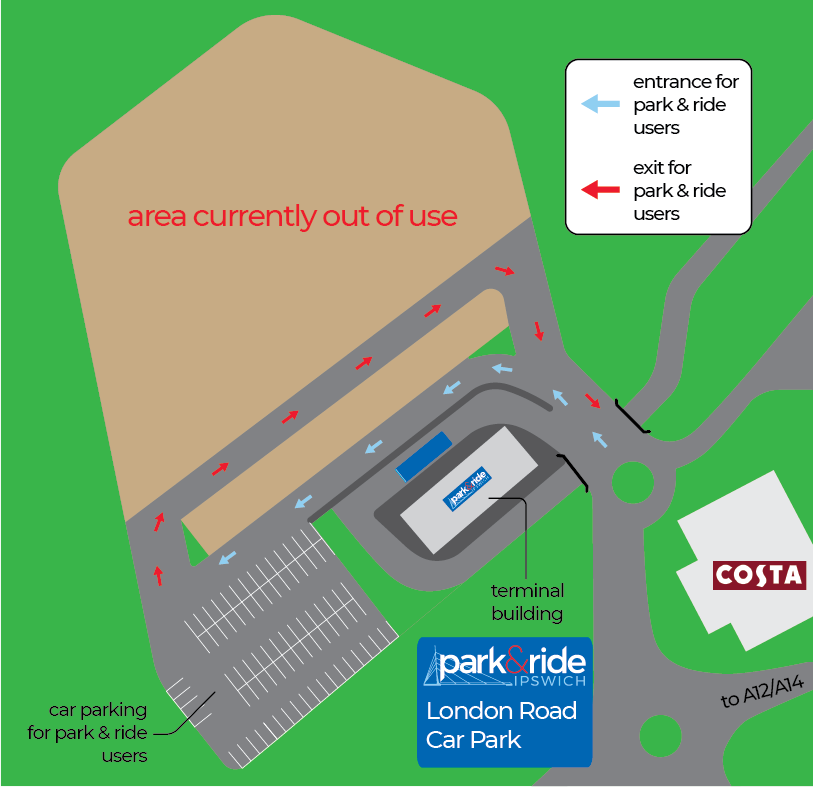 You can find service updates along with more information and tips for safer travel at the present time on our dedicated Coronavirus pages.