Temporary Timetables - Network Norwich and Excel services - from Sunday 14th November 2021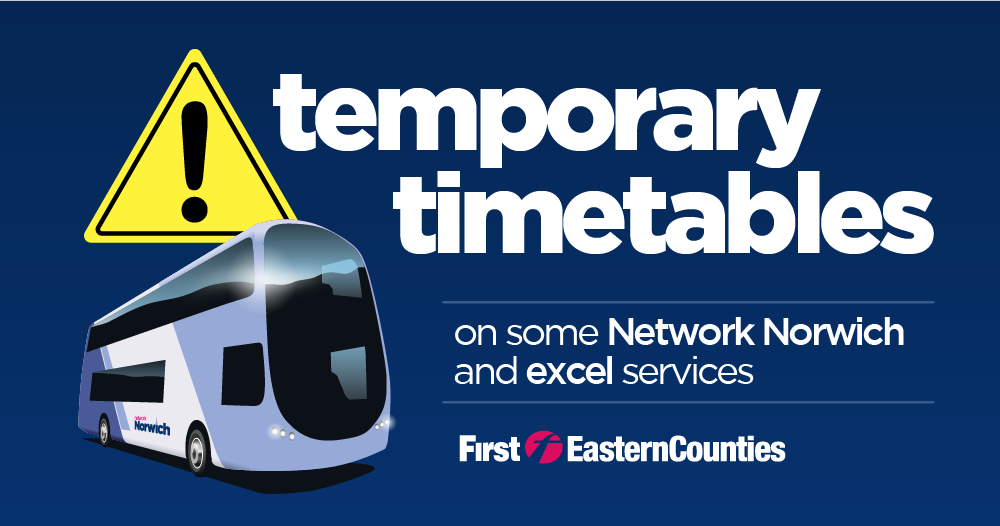 Due to the ongoing national driver shortage that is affecting all parts of the transport industry, we're introducing temporary timetables on some Network Norwich and Excel services whilst we continue to work hard recruiting and training new drivers.
These timetables come into effect from Sunday 14th November and replace all previous arrangements for daily cancelled journeys. The following services will be affected:
Pink Line 11|12
On Mondays to Fridays buses will operate up to every 15 minutes throughout the day providing four buses an hour instead of the usual six. 
Most service 11 journeys will operate as 11A via Cringleford & Eaton.
Saturday and Sunday timetables remain unchanged.
Turquoise Line 13*
There will be a very slight change to the times of a small number of weekday morning journeys *on a permanent basis.  No other changes to times or routes.
Green Line 14|15
The additional journeys between Hethersett and the city centre at peak times on weekdays will be withdrawn.  No other changes to times or routes.
Orange Line 21|22
All buses will operate as service 21 between Old Catton - City Centre - West Earlham - Bowthorpe - N&NU Hospital, running up to every 20 minutes from Mondays to Saturdays.  Service 22 journeys terminating at Bowthorpe Shopping Centre will be temporarily suspended.
Red Line 23|24
Buses will operate on each service (23|23A|24|24A) up to once per hour from Mondays to Saturdays.  This will provide a bus up to every 15 minutes between Dereham Road/Larkman Lane and Plumstead Road/The Heartsease, with half hourly buses to Queens Hills, the Heartsease Estate and Thorpe St Andrew (Sainsburys).
On Sundays there will be two buses per hour (instead of the usual three) between Longwater Sainsburys and the Heartsease Estate, with a bus every hour extending to/from Queens Hills.  Buses will operate as service 23 or 23A; service 23B will be temporarily suspended.
Excel D
Excel D buses will operate once per hour on Monday to Saturday daytimes (rather than the usual two per hour), with additional buses at peak times.  Combined with Excel A and B services, this will provide a bus at least every 30 minutes between Dereham and Norwich.
There are no changes to any other Excel services.
------------------------
You can find PDF copies of the new timetables for mobile or printing at home at the links below, or download our app to plan your journey and track your bus in real time.
We are sorry for any inconvenience that this may cause.