Temporary Timetables - Ipswich Reds 75|77|X7 and Ipswich Park & Ride services - from Monday 25th October 2021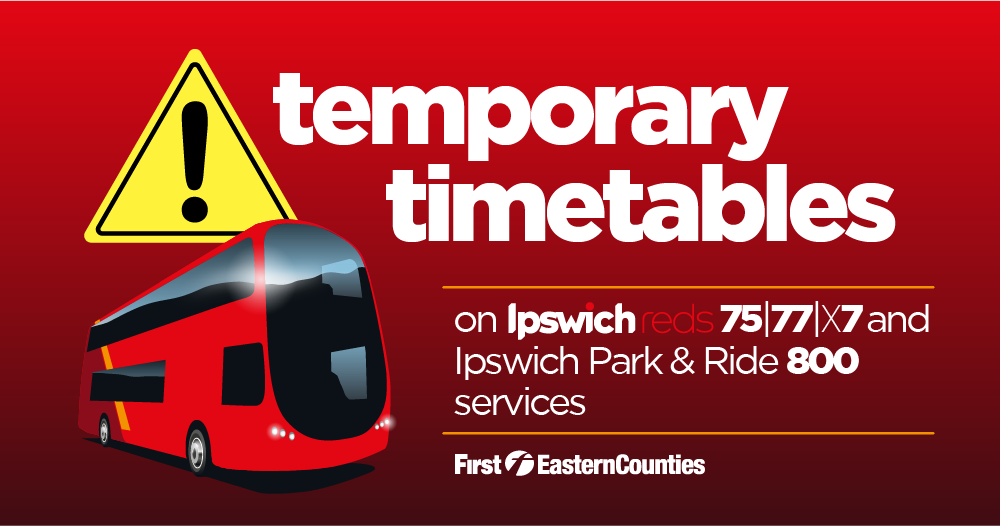 Due to the ongoing national driver shortage that is affecting all parts of the transport industry, we're introducing temporary timetables on some Ipswich Reds services and Ipswich Park & Ride whilst we continue to work hard recruiting and training new drivers.
These timetables come into effect from Monday 25th October and replace any previous arrangements for daily cancelled journeys.  They will affect the following services from Mondays to Saturdays:
Felixstowe Flyers 75|77|X7
Buses will operate as either service 75 or 77 throughout the day, running between Felixstowe and Ipswich town centre via The Trimleys and Ipswich Hospital up to every 20 minutes.
X7 journeys will be suspended, except for one peak-time journey into Ipswich in the morning and one back to Felixstowe in the afternoon peak.
Ipswich Park & Ride 800
Buses will operate up to every 20 minutes between London Road P&R and Martlesham P&R throughout the day. 
Weekday journeys to/from BT Adastral Park will operate as normal.
You can find PDF copies of the new timetables for mobile or printing at home at the links below, or download our app to plan your journey and track your bus in real time.
We are sorry for any inconvenience that this may cause.