Pink Line 12 - Extension of bus route in Wroxham & Hoveton - from 26th April 2021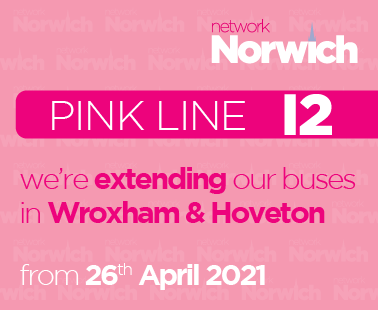 We're extending the route of our Pink Line 12 service in Wroxham & Hoveton from Monday 26th April 2021, making our buses closer and more accessible those living to the north eastern side of the village.  This will provide new, direct links from there to both Norwich city centre and the Norfolk & Norwich University Hospital, up to every 30 minutes from Monday to Saturday.
Buses will now start and end their journeys at the bus stops on Stalham Road adjacent to Littlewoods Lane, using the roundabout to turn before returning to the city. They will also serve the two stops between this point and Roys of Wroxham located next to the Horning Road roundabout and at Hoveton Village Hall.
Normal fares to/from Wroxham & Hoveton will apply and any travel tickets valid in the Norwich Zone will be able to be used on the extended route.
Passengers travelling to Wroxham from Norwich will also now be able to leave the bus at the main Roys bus stop, opposite the food hall, rather than outside the Kings Head Hotel on Station Road.
During the main part of the day, where necessary, buses will wait for their departure time at the Roys bus stop outside the McDonalds before continuing their journey into the city.
New PDF timetables and maps are available today from the link below.