'Out Out for £1' - Evening Fares Promotion for the Norwich Zone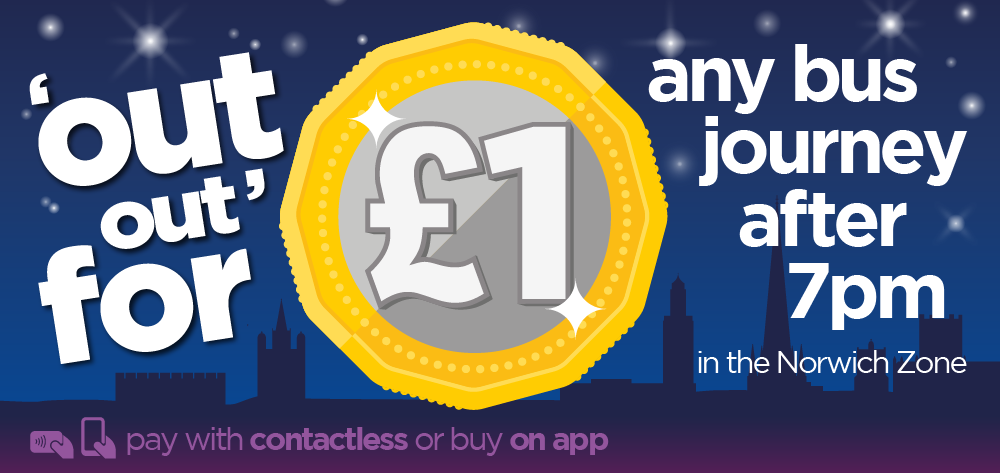 ALL EVENING BUS FARES IN NORWICH REDUCED TO £1 PER JOURNEY AS FIRST EASTERN COUNTIES ENCOURAGES PEOPLE TO GET 'OUT OUT' THIS AUTUMN
In support of kickstarting the night time economy in the city now hospitality, leisure and entertainment venues have reopened and are welcoming back customers, First Eastern Counties has introduced a £1 single journey fare to encourage people back into the city this Autumn.
Whether it's to enjoy the atmosphere of the big screen with the latest blockbuster movie at Riverside, explore a new cuisine with a delicious meal at one of the city's unique eateries in The Lanes, relive the fun of the summer with mates over some great craft beer in NR3 or dig out those dancing shoes to hit the clubs, people can now get 'out out' for less with any bus journey for just £1 after 7pm, anywhere within the Norwich Zone, 7 days a week.
The offer will run from Monday 4th to Sunday 28th November.
People can also take advantage of this bargain fare to get to and from the city on board comfy and direct Coastlink buses from as far as Acle, Beccles and Worlingham or super-swish excel buses from Dereham.
It's easy to buy an 'out out for £1' evening special ticket in advance on the First Bus App or when boarding the bus using a contactless card or device to pay.  Cash is also accepted on board but the exact fare is best.
With many services running late into the evening, this offer will allow bus users to get out and back again for as little as £2 per person.  Or, for anyone heading out before 7pm they can simply buy a normal price single fare (or use one journey on a 10-trip ticket) and get a £1 special fare home again which offers a great saving on the equivalent return ticket price.
First Eastern Counties Marketing Manager, David Jordan, said, "We know that Norwich's previously burgeoning night-time economy has been particularly badly affected by the pandemic and so we hope that our £1 evening promotional fare will help to make it more affordable than ever to enjoy some great evenings out enjoying all that our fine city has to offer.
"We're looking forward to welcoming new and familiar faces to our services over the coming months as our buses continue to play their vital part in encouraging a rapid and sustainable recovery across the whole area."
All bus times and maps are available on the First Eastern Counties website and the FREE First Bus App allows users to plan journeys, buy tickets and track buses in real time.