Our on bus capacity is increasing, from Monday 17th May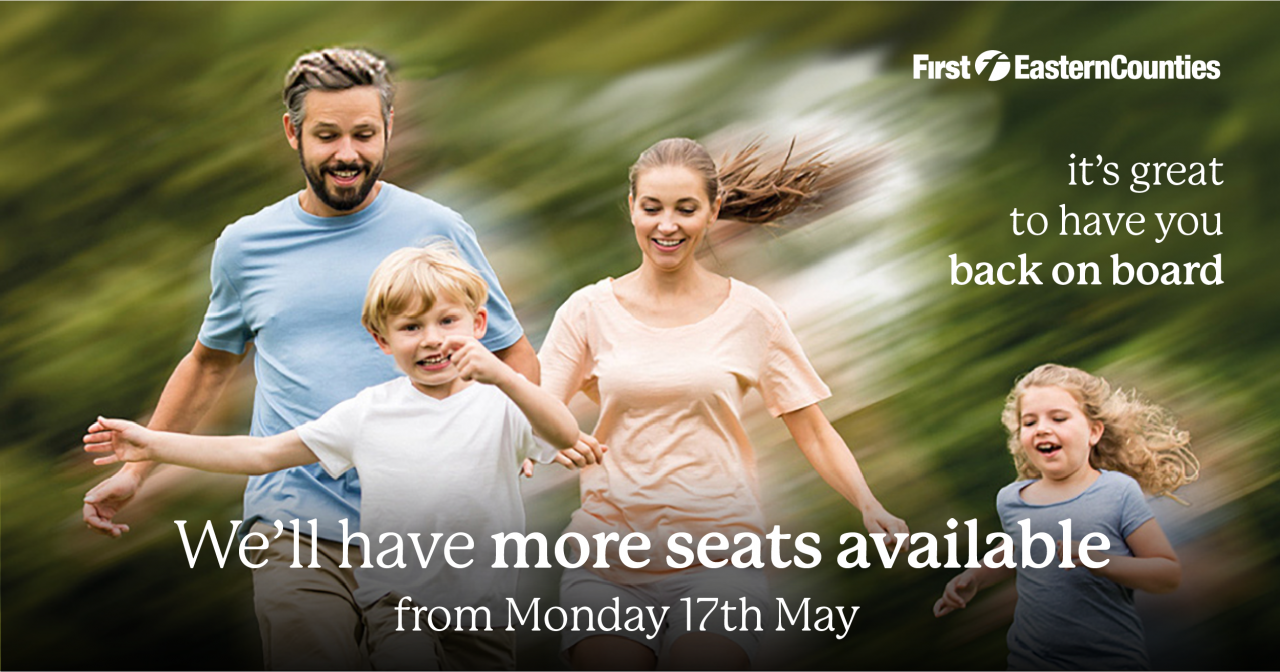 At First Eastern Counties, your safety and comfort on board are our priority.  As the government restrictions have eased you will notice that more people are travelling and coming together safely.  This means that places and buses are busier than they have been so once you board, you might find you have to sit next to someone.  To help with the increased number of passengers we will be increasing the capacity on our buses from Monday 17th May.
You must still wear a face covering whilst on board (unless you have a valid exemption) and all available windows on the bus will continue to be open to help with ensuring there is additional ventilation.
Safe and responsible travel
We've got each stage of your journey covered to help you travel comfortably to your destination. It's still worth planning ahead and leaving more time for your journey if possible. Here's some travel tips to help you:
Live capacity tracking: Use the award winning First Bus App to track your bus live on a map. You can see how far it is from your stop and how many seats are free. Download our App here.
Space Checker: Visit our website to check the service you want to use and to find the quietest times to travel. Use Space Checker here.
Getting on and off the bus: Please be patient while getting on and off and do not queue in the aisle or next to the driver. If you are able, please sit upstairs when possible leaving lower deck seats for those less mobile.
Paying for your journey: We request where possible that customers pay by contactless or buy in advance on our mobile app which also helps keep our buses running on time.
Face coverings: Always wear your face covering on board our services unless you are exempt according to government guidelines.
Ventilation: Please leave windows open for additional ventilation.
We look forward to welcoming you on board soon.  You can find more information on travelling on our buses, along with copies of all timetables here.