NEW Open Top Buses for the East Norfolk Coast for Summer 2021

History is in the making with not one but three open top buses being introduced to operate the new 'Clipper Cabriolet' service from Hemsby to Scratby & California onto Caister and the Seashore Holiday Park and into Great Yarmouth along the seafront terminating at the Pleasure Beach.
Locals and holidaymakers are in for a real treat as they can take in all the sights along the way as the service snakes its way along the coastline visiting key attractions and resorts on the east coast. With buses running daily up to every 20 mins along Great Yarmouth's Golden Mile and a contactless payment facility to pay for your journey, it couldn't be easier for people to experience a fun ride on an open top bus.       
The 'Clipper Cabriolet' is easily identified with its sleek and modern livery with open air seating on the top deck. This is also the first time that both the town and the wider east coast tourist area will have a regular service that uses more than one open topper bus.
There are some great value fares available too, with unlimited all day travel for a group of up to 5 people (maximum 2 adults aged 20+) costing as little as £5 between Seashore Holiday Park and the Pleasure Beach and just £10.50 for travel on the 'Clipper Cabriolet' as well as all other First Eastern Counties buses anywhere along the east coast.
Chris Speed, Head of Operations at First Eastern Counties said: "We are very excited and really looking forward to our 'Clipper Cabriolet' service starting on 16th May. With both Great Yarmouth town and other local resorts along the coast booking up with holidaymakers the service is expected to be a real attraction and a fantastic, fun addition to the holiday experience for many.
"For our local communities it will also provide a fun experience and convenient link to other locations along the coast where many people visit throughout the summer season"
Come and ride for free - on Saturday 15th May
To introduce our new buses, with favourable weather, we'll have all three buses will be on show on Great Yarmouth Sea Front on Saturday 15th May 1000 – 1500.
One bus will be parked on the paved area outside the front of the Britannia Pier – this will form the 'hub' of the event and will be equipped with information to promote the service.
Our other two buses will be providing complimentary round trips along the seafront, picking up at the bus stop outside Britannia Pier and travelling along the seafront as far as the Pleasure Beach before returning to the Britannia Pier.  A collection for local charities will be undertaken by the Great Yarmouth Lions on board the buses.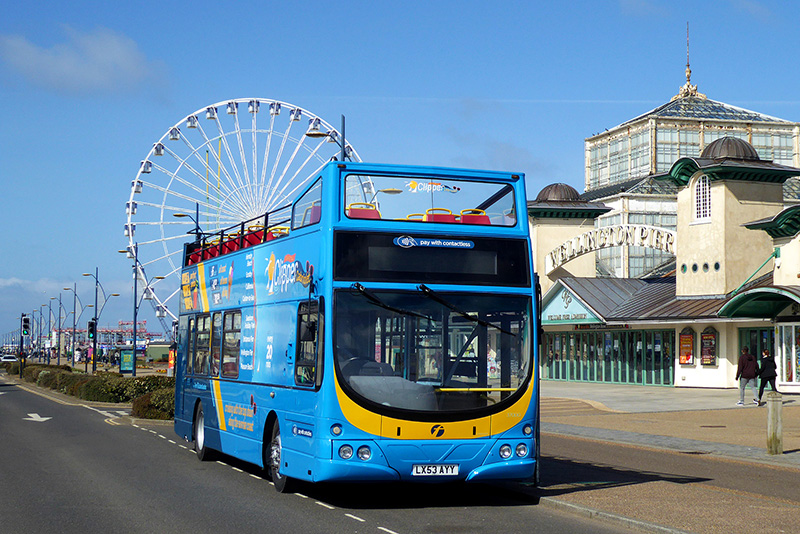 For more details on the service the dedicated Clipper Cabriolet webpage here