Coastal Reds - Service Changes to Great Yarmouth service 8 - from 22nd May 2022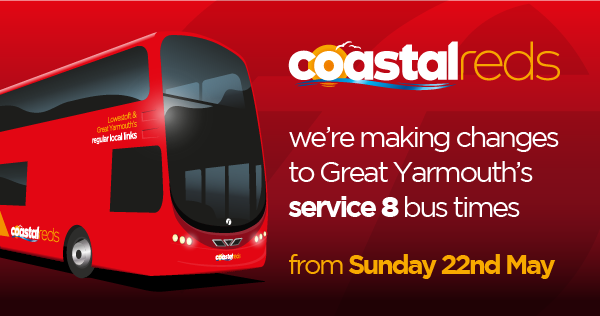 We're making changes to the bus times on Great Yarmouth service 8 from Sunday 22nd May 2022.
These changes are designed to help us to run on time when the traffic is heavier and as our buses on this service continue to operate with increased numbers of passengers.
There will be changes to the times of buses at most points along the route, and throughout the day.  In addition, buses around Cliff Park will run more frequently, up to every 30 minutes, in each direction.
Download the *NEW* Great Yarmouth Town Services timetable [PDF} here.
Or find our more about all of our Coastal Reds local services in Great Yarmouth & Lowestoft here.