Coronavirus - School Bus Information
---
PAGE UPDATED - Monday 8th March 2021
Carrying pupils and students of all ages is a key part of what we do at First Eastern Counties and so we continue to take additional measures to ensure that they can travel safely with us.
We have implemented a daily enhanced cleaning regime across our bus fleet with additional focus on all hand and grab rails.  More information can be found on our dedicated Safer Bus Travel webpage - click here to go there now.
We are still operating our normal services with restricted seating capacity of 50%.  We have therefore added some additional buses to our routes that carry the most school pupils and these services are designed exclusively for school use.  The route numbers for these are in the '900' series - you'll find a list of all these services below.
On these dedicated services the 50% reduced capacity does not apply – but wherever possible you should sit with others in your school 'bubble'.
For those who have to pay for their travel to and from school, we offer a range of great value Student Saver tickets that you can buy as an mTicket on the First Bus App, or buy online for delivery to the app or as a paper ticket (these cost slightly more).  Click here to find out more and buy your ticket.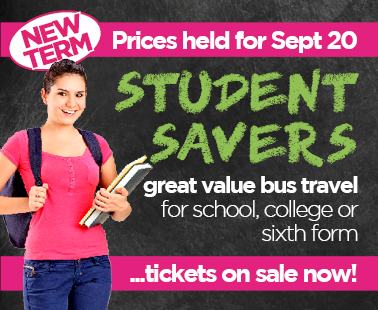 Or you can buy our normal weekly, monthly and 10-trip tickets in advance on the First Bus App at discounted prices for anyone aged 5-19.  Parents can purchase the ticket and then send the ticket to their child's phone using Ticket Gifting.
Dedicated school bus services (route number is in the 900 series)
The 50% reduced capacity does not apply, the majority of seat are available
Anyone aged over 11 should wear a face covering on a dedicated school bus service (unless your child is exempt)
Reduced capacities don't apply – but wherever possible please sit with your school 'bubble'
Public bus services
Reduced capacity with 50% of seats available
It's mandatory for anyone aged over 11 to wear a face covering on a public bus service (unless your child is exempt)
Pupils should only sit with a member of their own household e.g. a brother or sister. Unfortunately they are not able to sit with other friends or pupils from their or another school
In addition to the above, the following existing dedicated school bus services will continue to operate as per previous arrangements: