Coronavirus Safer Bus Travel

Safer Bus Travel with First Eastern Counties
At First Eastern Counties, your safety is our top priority and we are working with the Government and wider industry to ensure we are following the latest advice to keep you safe on our buses.

Face coverings are now compulsory for any passengers travelling in England until further notice, unless you have an exception set out by the government.  Click here for more information on face coverings and the government's exemption criteria.
On our buses we are operating at a reduced capacity with around 1 in 2 seats being available. It is therefore possible that that you might see 'Bus Full' signs as some services reach their revised capacity more quickly.
If you are waiting at a bus stop and the bus drives past, it is likely it has reached its reduced seating capacity. If the bus does stop, but is near capacity, the driver will only allow one person to board for every person that gets off, so you may need to allow extra time for your journey and be prepared to wait. With the latest version of the First Bus App you can now track your bus live on a map and it also displays how many seats are available on each bus.
In addition, you will also see further measures in place to help you to adhere to social distancing guidelines. These include:
Capacity signs by the entrance of each bus
Seat signs and tape to clearly show where you should and shouldn't sit to maintain a safe distance
Reminders to be considerate of other passengers
No standing
Seat signs will show where you shouldn't sit:

Capacity signs by the entrance of our buses. This will show the maximum passenger capacity for each bus: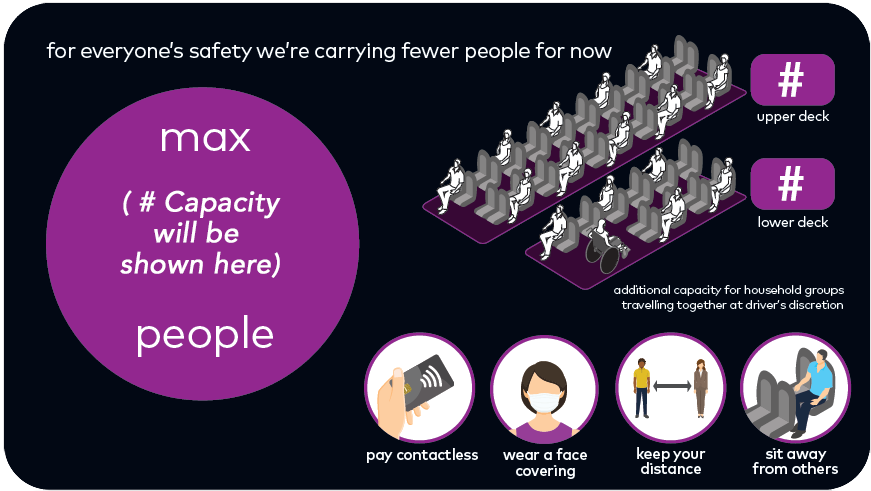 What else could you do to stay safe?
Plan your travel in advance, avoiding peak periods
Wear a face covering when on board (unless you meet the exemption criteria set by the government)
 
On our double deckers, consider sitting upstairs (if you are able)
Pay with contactless or purchasing your ticket in advance on our Mobile App
Use the correct change if you must pay by cash
No eating or drinking while on board
Leave windows open to aid ventilation
We'd also value your help in staying up-to-date with the latest coronavirus information from the NHS or Department of Health and Social Care websites.
Wash your hands with soap and water frequently for at least 20 seconds.
Use hand sanitiser whenever soap and water are unavailable.
Cover your mouth and nose with a tissue when you cough or sneeze, and place the tissue into the bin straight away.
We encourage all customers to switch to contactless payments and purchasing tickets via our Mobile app where possible.
We appreciate your assistance in helping to limit the spread of coronavirus.
---
Our enhanced cleaning regime...
Our buses are comprehensively cleaned every night by our expert team of cleaners, including regular disinfection of all grab rails and poles, entrance door handles, window ledges and other touchpoints. We use a long-lasting sanitising treatment (Zoono Z71) on all buses and depots, which kills germs on surfaces. It is environmentally-friendly, uses no alcohol or dangerous chemicals, and is proven to be a highly effective antimicrobial surface sanitiser.
Additionally, we are:
Encouraging good hand hygiene amongst all our staff
Embedding social distancing, and provided personal protective equipment such as gloves and disinfectant wipes to all our drivers
Displaying NHS advice on our buses wherever it is practical to do so
---
Face coverings...
In England it is now mandatory to wear a face covering on Public Transport unless you have an exemption. Failure to do so may result in a fixed penalty notice of £200 (reduced to £100 if paid within 14 days). To see the government guidance on face covering exemptions please follow this link ⇒
Please remember to bring a face covering or mask for your journey, it needs to fit well and cover your mouth and nose.
Put your face covering on before boarding the bus.  
If you have an exemption and you are unable to wear a face covering please be prepared to inform the driver or show an Extra help to travel card (Journey assistance card).
Please see here for more details ⇒
Please take your face covering with you at the end of your journey.
Please see our face coverings page for more information ⇒
---
Travelling on our buses...
There are currently no restrictions on passenger type and everyone is welcome on our buses follow all current government restrictions for our operating area, and they are not feeling unwell.   People intending to travel should check the appropriate government advice for the region of the UK they live in. 
Anyone who is suffering from coronavirus symptoms including a persistent cough or high temperature, should not travel, and should follow public health guidelines.
---
NHS Test & Trace App...
Supporting the national effort with the NHS Test & Trace App:
We would like to encourage all passengers travelling with us to download the NHS Covid-19 Track and Trace app. Anyone aged 16 or over who lives in England can use the app. The app allows you to report symptoms, order a Coronavirus test and check into venues.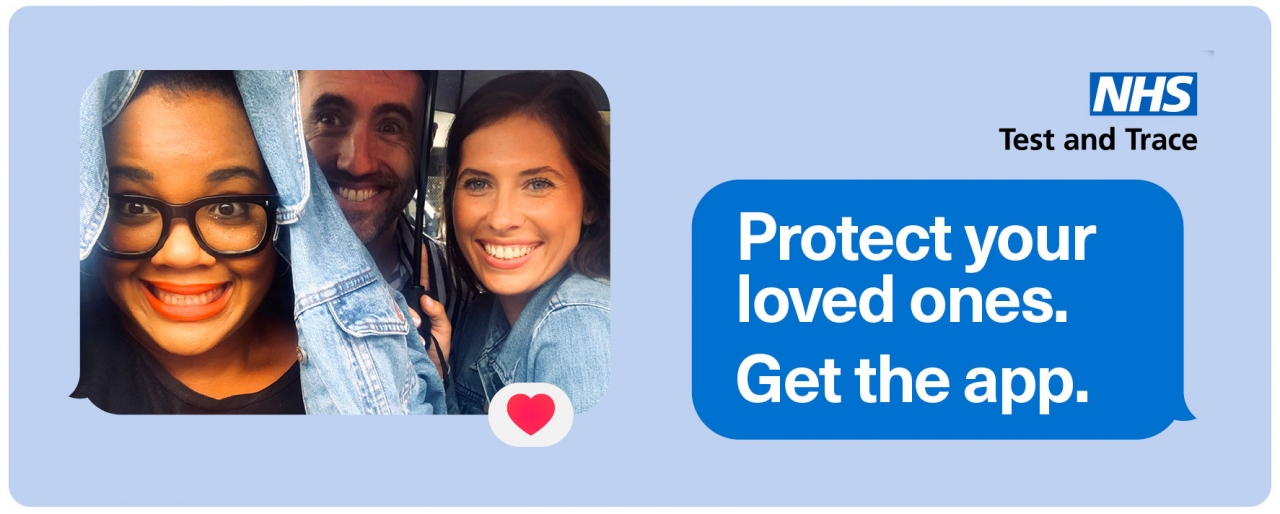 How do I access the App?
The app is designed to help us protect each other and reduce the spread of coronavirus.
The England NHS COVID-19 app is free to download from the App Store and Google Play here.
Download the NHS COVID-19 App:
---
---
More information...
For our general information, please see our main Coronavirus information page »
For our face covering information, please see our main face covering information page »
For the official government guidance page, please follow this link »
For our First Bus Covid 19 Risk assessment, please see Risk Assessment ⇒ 
---
Customer Services...
Due to the Tier 4 regulations across our operating area, our Norwich and Ipswich travel shops are currently closed.
You can contact our customer services team between 7am and 7pm, 7 days a week. Our quieter times are usually between 11am and 3pm so you may prefer to call then as there will be less of a wait to speak to one of our Customer Support Agents.
For mobile tickets (mTickets) bought in our app, please email our mTicket support team mticket-support@firstbus.co.uk.  Please include the mobile number and email address associated with your mTicket account .  Alternatively, please call us on 0330 094 7577.
 
For subscription tickets, please email first.etickets@firstbus.co.uk and include the email address and telephone number associated with your subscription.
 
For all paper tickets, please call 0345 646 0707 and select option 2 then option 3 or email us at: SSC-TicketEnquiries@firstbus.co.uk
Please be advised that our operators may be busy due to increased volume of enquiries but will do their best to assist you.
If you prefer, you can fill out the contact form here instead ⇒  We will get back to you as soon as we can but please be aware that for lost property enquiries our response time is usually within 3 working days  for all other enquiries this could take up to 14 days.