Your feedback...
We're always really pleased to hear feedback from our passengers, no matter whether it's about something we're doing well, or something you think we could improve on.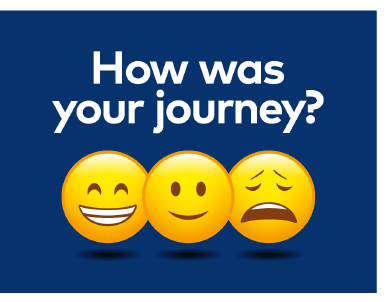 Our really simple TellFirstBus online feedback tool gives you a great opportunity to let us know how you're finding your journey with us, at the time it's actually happening or when you get home afterwards.  It's available 24/7 and it'll work perfectly on any device.  Click here to give us feedback now!
So if our driver helped you load your shopping, gave you some advice on the best value ticket to buy or seemed to get other passengers on-board really quickly so your bus stayed on time we'd love to know.
And although we always try our hardest to meet your expectations, sometimes things will go wrong.  A lot of the time this will be things that we can't control, like unexpected roadworks, really heavy traffic or even a fault with one of our buses that we have to fix before we can get to you.  But, regardless of why you feel we could do better, we'd love to hear from you whenever you travel.
Here's some recent examples of things we've done recently at First Eastern Counties in direct response to your feedback...
You Said...

We Did...

"The Blue Line buses are always really busy in the mornings on the way to Uni, and in the afternoons on the way home again.  Sometimes we can't get on the first bus that arrives."
From this September 2018 we've increased the frequency of our Blue Line buses so there's now a bus every 7-8 minutes on service 25 and a bus every 10 minutes on service 26  at the busiest times of day.
You can find our latest Blue Line timetable here
"We'd like an X29 bus to run from Norwich to Fakenham that arrives before 9am so we can use it for work, even though most people are travelling towards Norwich at that time of day."
We've introduced a new journey on our Yellow Line X29 service that leaves Norwich at 0730 and arrives in Fakenham at 0845. 
You can find our latest Yellow Line timetable here
"We've seen the poster on the bus about the Student Saver tickets you sell but we'd like to have a leaflet available on the bus to take away to read at home."
This September we've put a supply of leaflets hanging on a string at the front of all of our buses so you can get all the information you need.
"We get confused by the changes to the Coastal Clipper 1 & 1A bus times that happen twice a year.  Why can't you run a timetable that's the same all year round?"

Because this route operates along the Norfolk and Suffolk coasts, past lots of popular holiday destinations, we have to put extra buses on in the summer to be able to carry everyone who wants to travel.  However, in May 2018 we introduced a new timetable where the basic service of a bus up to every 30 minutes will stay the same throughout the autumn and winter.
You can find our Coastal Clipper 1 & 1A timetable here