LeedsCity Tickets

Cheaper on the First Bus App - download for free today
If cheaper tickets are something you're looking for, then our First Bus App is the one for you! We've frozen the price of tickets purchased via our app to encourage quicker boarding and ticketing times.
The app is easy to use and available for free via the App Store and Google Play. Simply download the app, register, select from a variety of tickets, and navigate the secure payment system. Once the payment section is complete, bus tickets live in a virtual wallet ready for you to show the driver.

5 travel for £6 Weekend Group ticket
On Saturdays, Sundays & Bank Holidays, up to 5 people can travel together on one ticket for just £6 when using our First Bus App! Our Weekend Group ticket lets you enjoy unlimited travel across Leeds for the day, so put your parking money towards something special this weekend and travel with us to do your shopping instead.
And the offer doesn't stop there! During the week, after 9:30am Monday - Friday, up to 5 people can travel for just £8.75 using our First Bus App.
These tickets are available via our First Bus App
* Please note that our on-bus prices are different to those on our First Bus App.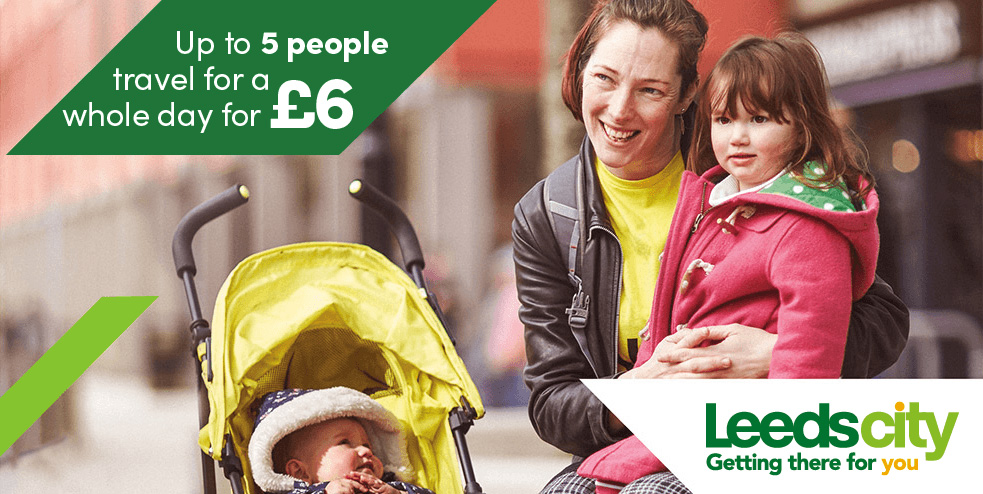 Group Ticket Terms and Conditions
Buy a FirstDay Weekend Group ticket for up to 5 people to travel for a day on any First Bus across West Yorkshire (Saturdays, Sundays & Bank Holidays).
The FirstDay Group ticket is only available from 9.30am, Monday - Friday and all day on weekends & Bank Holidays.
The FirstDay Weekend Group & FirstDay Group ticket are not valid for use on PR1 Elland Road Park and Ride service.
A party of 5 includes up to 5 adults or a minimum of 1 adult and 4 children.
Offer cannot be used with any other offer, promotion or discount scheme from First Bus or another bus operating company.
Available to purchase now via our First Bus App.
Promoter: First West Yorkshire, Donisthorpe Street, Leeds, LS10 1PL.
Or why not try First Unlimited?
At First Bus we're working hard to improve our ticket choice to ensure we've got the right travel solution for our customers so we've introduced First Unlimited, a monthly subscription ticket delivered straight to your mobile. Your ticket will be automatically renewed taking away the hassle of repeat purchasing. You could even save up to £48* a year with First Unlimited instead of buying an new ticket every month.
*Saving shown compared to 12 x month tickets purchased online or in Travelshops.
Find out more here:www.firstbus.co.uk/buy-ticket/first-unlimited »