Customer Care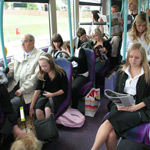 At First West Yorkshire we want you to have a safe, reliable and high quality journey every time you travel. Our fleet in Leeds is low floor & easily accessible meaning parents with buggies and wheelchair users can travel with ease.
We continually monitor our progress and because your travel needs are constantly changing, we strive to find new ways of improving our service. We will always publicise upcoming service changes through this website.
Customer Service and Safety are very important to us at First and we welcome comments from all our customers. You can contact us in a number of ways:
Help and Support
You'll find plenty of helpful information in our Help & Support section » and if you're not used to taking the bus, have a look at our How to catch the bus section »

Your feedback - Tell First Bus
We are always interested in how you feel about the service we provide so we've made it quick and easy for you to give us feedback.  Just go to Tellfirstbus.com » and take 2 minutes to give us feedback – whether it's good or not so good.  We review all the feedback and use it to make your bus service better, you can find out what your local company is doing with your feedback by going to the Tell First Bus page »

If you want to make a formal complaint, we aim to make that as easy as possible for you.  We'll listen to you and do everything we can to put things right. Visit I'd like to make a complaint » to find out more.

Write to us at First Princes Exchange 2 Princes Square Leeds LS1 4HY
 
You can also follow us on twitter - (Opens in a new window)
If you do have cause to make a complaint, we will acknowledge your query as quickly as possible and aim to respond within 2 weeks, however due to the high number of enquiries we receive and depending on the complexity of your query and whether we need to contact you for further information this may occasionally take longer.