Working for us

Help us put our customers first. Every day.
At First Manchester, we all work together to keep our communities moving. By joining our team you'll play an important role in the everyday lives of local people. 
We are currently recruiting for the following roles:
Bus drivers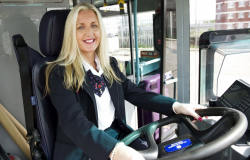 As a bus driver you'll be a true ambassador for First. You'll be the friendly face that welcomes customers on board and provides a first class, professional service. You'll be right at the heart of local communities, driving a variety of routes and looking after all kinds of people to help them get to where they need to be. No two days will be the same in this role!
We offer opportunities for qualified drivers with a PCV licence and also trainee roles for those with no prior experience. You'll receive all the training and support you'll need, as well as a competitive salary and additional company benefits.
See our latest vacancies across Greater Manchester
Engineers
As an engineer the work you do will make a real difference to our customer experience. You'll be involved in all kinds of challenges; from general maintenance and making modifications to our fleet, to fault diagnosis and keeping our interiors and exteriors spick and span. You'll take great pride in ensuring our vehicles always run efficiently, look their best and are well maintained.
We offer a range of engineering opportunities for qualified engineers.