Vaccination Centre Travel Guide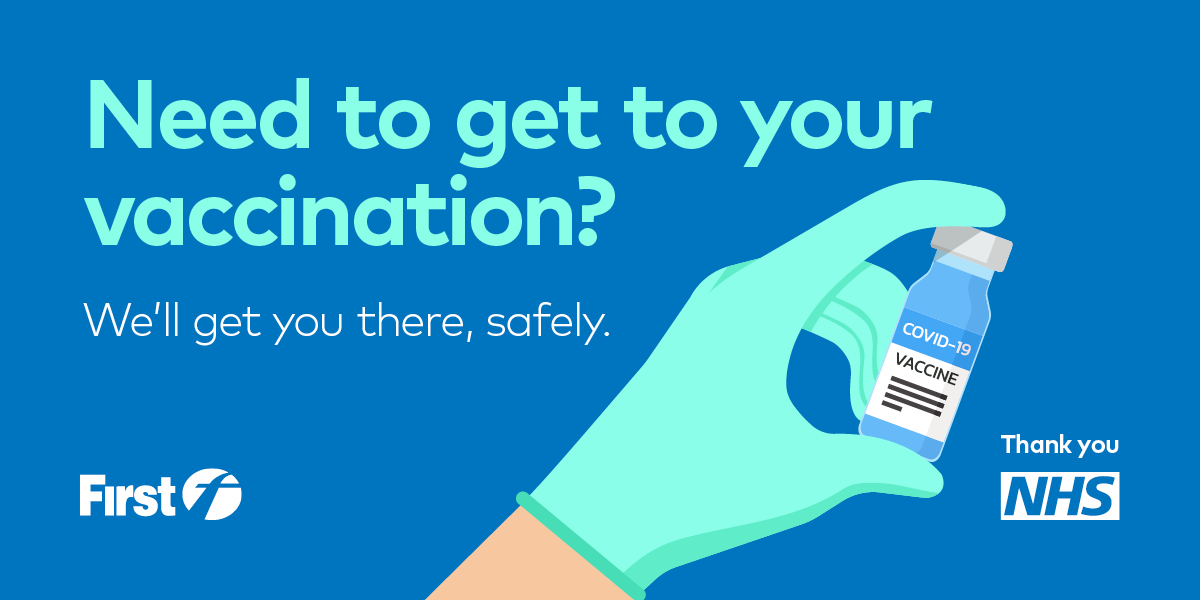 Our services are available for those who need to attend appointments at Vaccination Centres. Check out below the nearest bus services to each location and the frequency of the services along with some important information about how to keep yourself, your fellow passengers and our staff safe while travelling. We will add more details as information about further locations is released.
All up to date timetables can be found here
Once you have a confirmed date, time and location of your appointment, if you need to speak to a travel adviser to help plan your journey please call Traveline Scotland on 0141 465 1878. The Travel Scotland line is open 24/7.
c
Alexandria, Community Centre
Route
Mainday Frequency
Closest stop(s)
1/1A
every 15 mins
Main Street
206 (from Balloch)
every 20 mins
Bank Street
206 (from Dumbarton)
every 20 mins
Main Street
Bearsden, Allander Leisure Centre
Route
Mainday Frequency
Closest stop(s)
60A
every 20 mins
Milngavie Road
First Midland X10/X10A
approx. hourly
Milngavie Road
Bellshill, Sir Matt Busby Sports Complex
Route
Mainday Frequency
Closest stop(s)
240
every 10 mins
Gartcosh Walk
Clydebank, The Hub
Route
Mainday Frequency
Closest stop(s)
2
every 10 mins
Kilbowie Road
60/M60 (from Clydebank)
every 7/8 mins
Kilbowie Road/Radnor Street
60/M60 (from Drumchapel)
every 7/8 mins
Kilbowie Road opp The Hub
81
every 12 mins
Kilbowie Road
Coatbridge, Time Capsule
Route
Mainday Frequency
Closest stop(s)
201
every 12 mins
Bank St & Dundyvan Rd
Cumbernauld, Muirfield Community Centre
Route
Mainday Frequency
Closest stop(s)
X3
every 20 mins
Central Way

Dumbarton, Concord Centre

Route
Mainday Frequency
Closest stop(s)
1
every 30 mins
Church Street
1A
every 30 mins
Church Street
1B
every 30 mins
Church Street
206
every 20 mins
Church Street
208
every 45 mins
Church Street
East Kilbride, Alistair McCoist Complex (Vaccine SuperCentre)
Route
Mainday Frequency
Closest stop(s)
18
every 12 mins
Quarry Road
Fernhill, Community Centre
Route
Mainday Frequency
Closest stop(s)
14
hourly
Fernhill Road/Fernhill Shops
21 (from Glasgow/Cathkin)
every 15 mins
Fernhill Road/Fernhill Shops
21 (from East Kilbride)
every 30 mins
Fernhill Road/Fernhill Shops
65
every 30 mins
Fernhill Road/Fernhill Shops
Giffnock, Carmichael Hall
Route
Mainday Frequency
Closest stop(s)
38 (from City Centre)
every 15 mins
Eastwood Toll
38 (from Crookfur)
every 30 mins
Eastwood Toll
Stagecoach Western 4
every 30 mins
Eastwood Toll
Glasgow, Barmulloch Community Centre
Route
Mainday Frequency
Closest stop(s)
8 (from Parkhead)
every 30 mins
Wallacewell Quadrant
8 (from Summerston)
every 30 mins
Croy Road
57
every 20 mins
Wallacewell Road
57A (from City Centre)
every 20 mins
Wallacewell Quadrant
57A (from Balornock East)
every 20 mins
Croy Road

Glasgow, Glasgow Club (Castlemilk)

Route
Mainday Frequency
Closest stop(s)
5 (from City Centre)
every 12 mins
Dougrie Road
5 (from Mitchellhill)
every 12 mins
Castlemilk Drive
34A
every 10 mins
Castlemilk Drive
46
every 30 mins
Castlemilk Drive
74
hourly
Dougrie Road
75
every 10 mins
Castlemilk Drive
Glasgow, Glasgow Club (Drumchapel) (Donald Dewar Leisure Centre)
Route
Mainday Frequency
Closest stop(s)
1C
every 30 mins
Kinfauns Drive
3
every 12 mins
Kinfauns Drive
6A
every 12 mins
Kinfauns Drive
60/M60 (from City Centre)
every 20 mins
Kinfauns Drive
60/M60 (from Clydebank)
every 7/8 mins
Drumry Road East
M60 (from Glenkirk)
every 7/13 mins
Kinfauns Drive
Glasgow, Glasgow Club (Easterhouse)
Route
Mainday Frequency
Closest stop(s)
19
every 20 mins
Auchinlea Road
41
every 12 mins
Westerhouse Road
43
every 30 mins
Bogbain Road
46
every 30 mins
Auchinlea Road
60/60A
every 10 mins
Auchinlea Road

Hamilton, Whitehill Community Centre

Route
Mainday Frequency
Closest stop(s)
227
hourly
Victoria St or Hunter Rd

Kirkintilloch, Leisure Centre

Route
Mainday Frequency
Closest stop(s)
X85
every 30 mins
Woodhead Park
X87
every 30 mins
Woodhead Park
88
every 20 mins
Woodhead Park
Motherwell, Ravenscraig Sports Centre (Vaccine SuperCentre)
Route
Mainday Frequency
Closest stop(s)
VAC 1 (from Motherwell)
every 30 mins
Motherwell Station, Muir Street
VAC 1 (from Ravenscraig Sports Centre)
every 30 mins
Ravenscraig Sports Centre
VAC 2 (from Cumbernauld)
every 45 mins
Central Way
VAC 2 (from Ravenscraig Sports Centre)
every 45 mins
Ravenscraig Sports Centre
Paisley, Lagoon Leisure Centre
Route
Mainday Frequency
Closest stop(s)
9
every 12 mins
Glasgow Road/Gauze Street

Renfrew, Leisure Centre

Route
Mainday Frequency
Closest stop(s)
77
every 30 mins
Paisley Road
If you are travelling, follow these tips so that you can arrive safely at your destination. We've got each stage of your journey covered:
Before you travel
Use the First Bus App to journey plan and buy your ticket
Use our Space Checker tool to find when your bus is less busy
Please bring a face covering as it is mandatory to wear onboard at all times, unless you are exempt. Click here for exemptions
Bring hand sanitiser
We encourage our customers to download the NHS COVID19 App
At the bus stop
Use the First Bus App to track where your bus is and the number of free seats available
Put on your face covering before you board the bus, it is a legal requirement unless you are exempt
When your bus arrives, please allow space for passengers to leave the bus before you step onboard
Get you payment method ready – mTicket on the First Bus App , contactless card, concessionary pass or the exact change
On board
We encourage customers to make cashless payments to avoid cash handling
It is a legal requirement to wear a face covering, unless you are exempt otherwise you could be fined up to £200.
Our windows need to remain open to maintain airflow
To assist others less mobile, please sit upstairs on double deckers