Wishaw bus driver calls on more women to become drivers this International Women's Day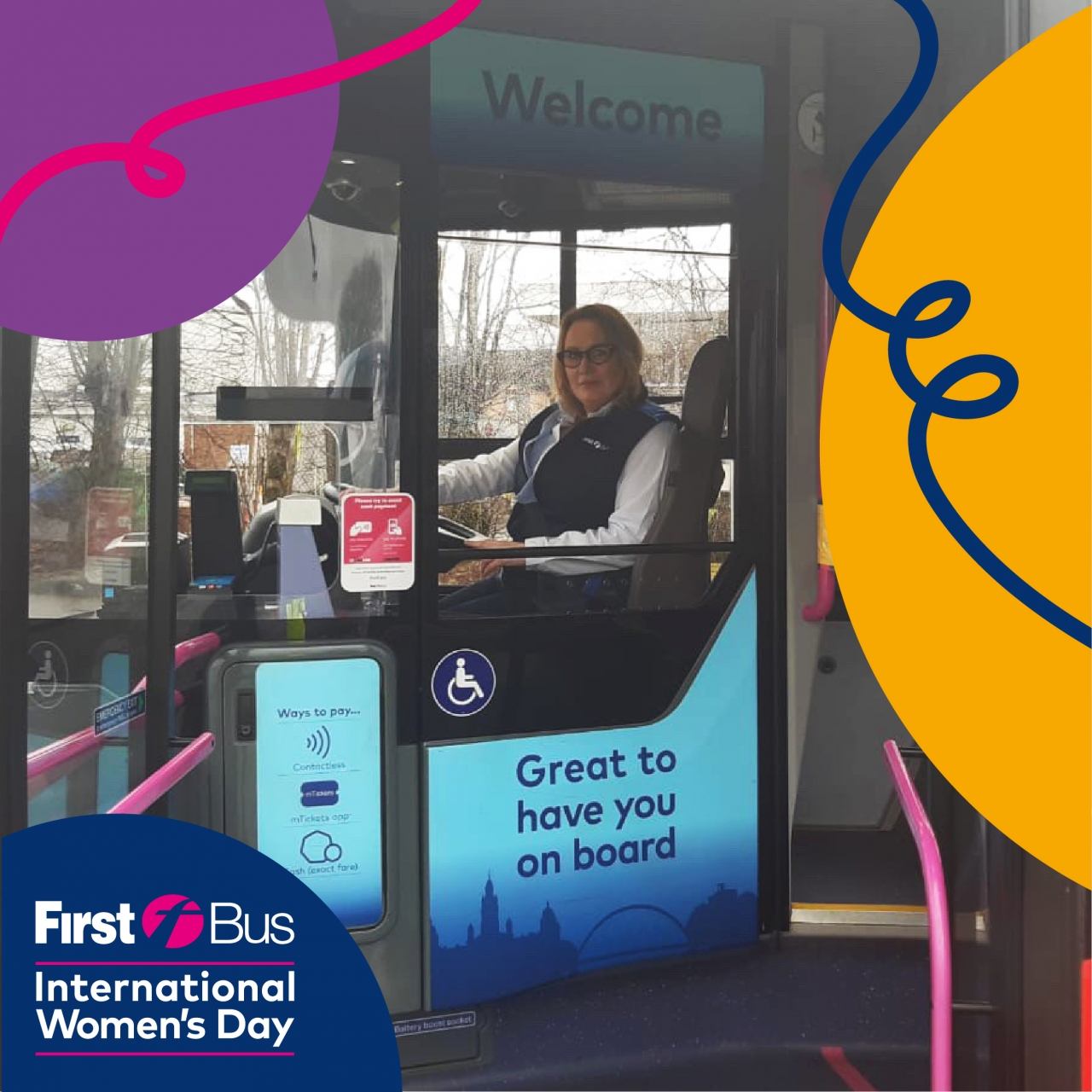 A Wishaw bus driver is calling on more women to consider taking up a role in the bus industry this International Women's Day as First Bus seeks to recruit more female drivers.
Sheryl Marnie works as a Leading Driver at First Bus and has been driving double-decker buses around Lanarkshire and Glasgow since 2008.
After over a decade in the role, Sheryl is keen to put the stereotypes to bed that bus driving is a 'man's job'.
Sheryl said: "It's fair to say that my peers were pretty astonished when they found out I was going to be a bus driver. I'd worked previously as a psychiatric nurse, so I think a lot of them just didn't see it coming!
"I'd done a brief stint as a taxi driver, too, and I kept driving pass the job ad for drivers at First Bus, and I always thought 'that's something I could do – why not?!' After a few weeks, I decided to just go for it and here I am today.
"There have been a couple of points during my time at First Bus where I've been the only woman at the depot. And when I first started out, the size of the buses was a little daunting, but it didn't take me long to realise that we can do this job just as well as the men!"
Since starting out as a driver, Sheryl has risen through the ranks and has taken on more responsibility at First Bus. In her role as Leading Driver, Sheryl oversees a team of drivers, helping to manage their shifts and be their first point of contact should they need help or have any queries.
Sheryl added: "I enjoy helping people – that's probably the bit I love most about my job. The other drivers will come to me with their problems, mostly bus and work related, but sometimes I'm here just to lend an ear. It feels good to know that I'm someone that the drivers trust and will open up to."
Andrew Jarvis, Managing Director for First Bus in Scotland, said: "If you look around any of our depots, there'll be, without doubt, more men than women - but this is not a man's world and we want to play our part in getting rid of the harmful stereotype that says that working on buses is a 'man's job'.
"With each year, there are more women joining our workforce, and they bring so much to our company. It's fantastic to be achieving more of a gender balance, and while we're not there yet, we're definitely heading in the right direction.  
"With every recruitment drive we do, we'd love to see even more female applicants – from drivers, to engineers, to electricians, we're confident that more women can find a great career at First Bus."
In 2020, First Bus re-invigorated its focus on Equality, Diversity and Inclusion (EDI), joining forces with an external expert partner to carry out a full 'EDI health check' of the business, seeking to understand what the bus company does well and what could be done better.
As part of this, First Bus is keen to understand much more than policies and ways of working - it aims to listen to its colleagues' experiences in order to create a strategy and action plan that will truly make a difference. First Bus believes that this will help its workforce to feel, heard, valued and included.
For more information about a career with First Bus, click here: https://www.firstbus.co.uk/about-us/news/women-first-bus