First Bus mark Armed Forces Day with unveiling of new garden of remembrance at their flagship Caledonia Depot
First Bus are proud to commemorate Armed Forces Day (26th June), this year with the unveiling of a new dedicated garden of remembrance at their flagship Caledonia Depot.
The memorial garden is is now home to a collection of war memorials that were previously on display at their former depot in Parkhead.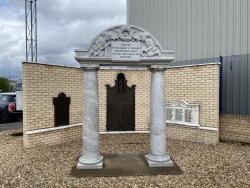 The memorials commemorate colleagues from the former tram depots at Whitevale, Dennistoun, Langside and Newlands, who paid the ultimate price during the First World War in defence of our country.
It's therefore fitting that on Armed Forces Day, First Glasgow are able to honour our fallen heroes through the restoration of the memorials and their unveiling as part of this new remembrance garden.
Duncan Cameron, Interim Managing Director for First Bus in Scotland, said: "We're proud to be able to honour our fellow transport colleagues through the creation of a dedicated remembrance garden within our flagship depot at Caledonia. It's therefore fitting that we're able to unveil the memorials located within the garden in time for Armed Forces Day."
"It's important that our present day staff that are all part of the First Glasgow family have a focal point where they can reflect on the actions of previous colleague, friends and family members that paid the ultimate price to secure the freedoms that we take for granted today."
The First Glasgow Caledonia Depot team are planning to hold a rededication ceremony for colleagues at Caledonia depot once current coronavirus restrictions have eased further later this year.
Unite the Union, National Convener, Mick Dowds added: "We're proud to be involved in the unveiling of the remembrance Garden at Caledonia and it's a fitting tribute to honour our fallen comrades who made the ultimate sacrifice in defence of our country."