UoE Student travel

Get huge student savings with First Essex
With the start of the academic year just around the corner, it's time to jump on-board with First Essex.
To help you get started, First Essex have frozen ticket prices at the 2019 rate for Term 1.
All student tickets are available via the First Bus App, all you need to get started is your essex.ac.uk student email address.
Due to COVID-19 the usual Freshers events will not be taking place, therefore we will not be able to have an on-site presence this year.
UoE tickets can be purchased via the First Bus App, or a paper ticket can be purchased from the Student Union office (Colchester) when it re-opens.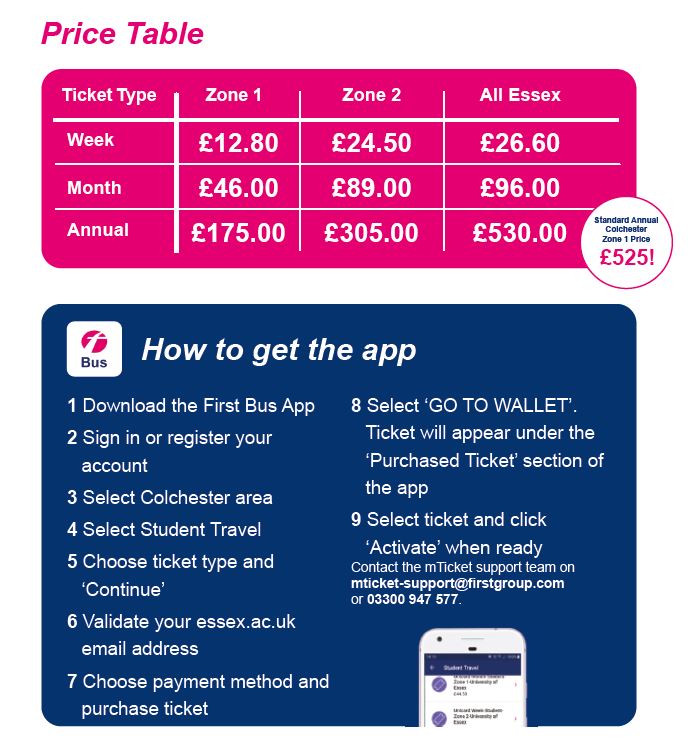 We have implemented a daily enhanced cleaning regime across our bus fleet with additional focus on all hand and grab rails.  More information can be found on our dedicated COVID web page, click here.
On our buses we are operating at a reduced capacity with around half of the seats being available. It is therefore possible that that you might see 'Bus Full' signs as some services reach their revised capacity more quickly.
If you are waiting at a bus stop and the bus drives past, it might have reached its reduced seating capacity. If the bus does stop, but is near capacity, the driver will only allow one person to board for every person that gets off, so you may need to allow extra time for your journey and be prepared to wait. With the latest version of the First Bus App you can now track your bus live on a map and it also displays how many seats are available on each bus.
Travel safely by:
Planning your journey
Wear a face covering for the duration of your journey (unless exempt)
Use contactless payments or the First Bus App to purchase tickets