Govt £2 Single Bus Fare Cap From 1st Jan to 31st October 2023
We are excited to announce that First Essex will be taking part in the Government £2 Bus Fare Cap Grant scheme during Autumn. This means that most single journeys across our Essex network will cost no more than £2.
Is there any other ticket price change?
No, it is only single tickets and Tap&Cap fares that are changing. The adult day, week, 4-week and longer-term ticket prices are all unchanged.
Which First Essex services are not part of the scheme?
The £2 fare cap scheme does not apply to the following school day bus services:
Service 16A (Barnhall to St Helena School)

Service 17 (West Bergholt to Stanway School)

Service 525 (Chelmsford to Colchester Norman Way School)

Service 561 (Basildon to St. John Payne School)

Service 570 (Gt Dunmow to Colchester)

Service 620 (Abridge to Ingatestone)

Service 625 (Chelmsford to Southend Boys High School)

Service 725 (Basildon to Southend Boys High School)
Where can I buy tickets?
Single tickets can be purchased via First Bus App or on the bus by cash or contactless.
Does £2 fare cap apply to Tap&Cap?
Yes. Every tap will be no greater than £2 as part of the Government £2 Bus Fare Cap scheme.
Tap&Cap fares for each areas are detailed below.
NEW TAP&CAP FARES (MAXIMUM OF £2 PER TAP)
You Tap. We Cap. Once you reach the maximum weekly or daily cap, ride the rest of the week or day for FREE!
Tap&Cap fares for each areas are detailed below:
Basildon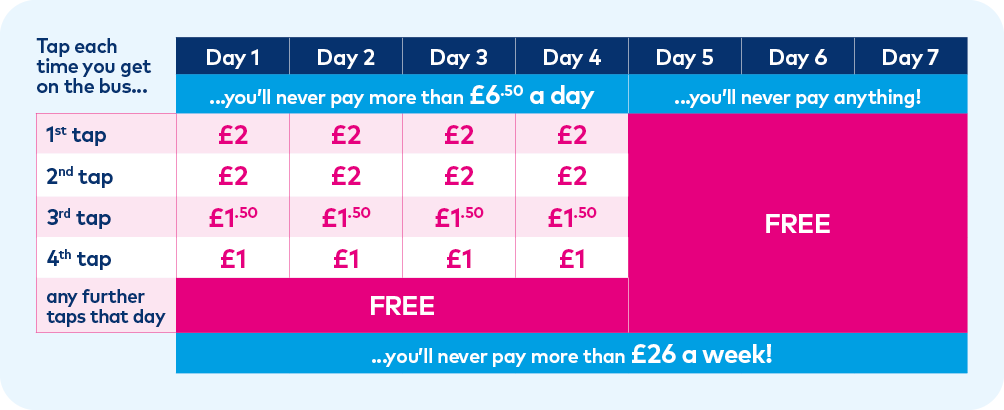 Colchester

Chelmsford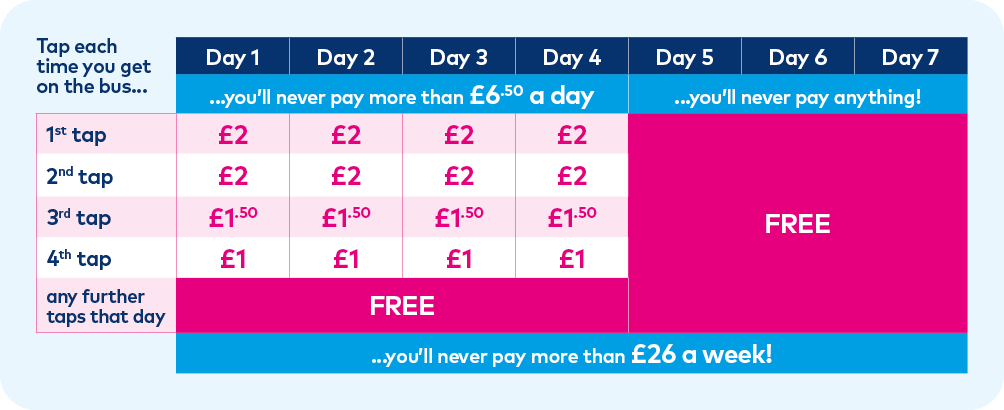 Southend-on-Sea