Remembrance Day Bus from First Essex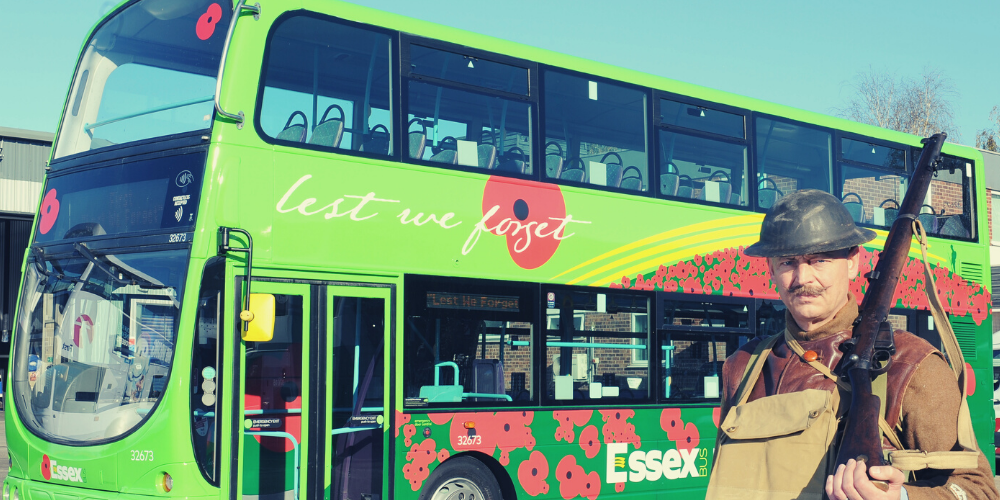 First Essex Bus will be offering customers in Colchester a very special journey down memory lane from Friday 12th November to mark Remembrance Day.
The specially designed bus will be offering trips back into the past when VIP guests from the Royal British Legion and representatives from the Armed Forces will enjoy a special tour on the bus visiting historic Colchester landmarks in the company of a World War I soldier, sharing experiences of the Great War.
The re-enactment actor, dressed in authentic World War I uniform, will be a real-life representation of the many thousands of servicemen who have lost their lives during conflict and who are particularly in our thoughts in the build up to Remembrance Sunday.
There will also be the chance for customers to see and hear these World War I memories as the commemorative bus goes into public service from approximately 11.36am on Friday, November 12th. Operating on bus route 64a, which passes the Colchester Garrison, the special First Essex service will offer free travel until 1pm and feature re-enactment actor, Jim Williams, with the chance to ask him questions, hear his stories and share in some of the wartime experiences from this devastating time in world history.
The Remembrance Bus will also be visiting Colchester Remembrance Parade on Sunday 14th November: Free travel will be available for any person wearing uniforms of the Royal Navy, Army, Royal Marines, Royal Air Force, any associated cadet force or carrying a military ID card, across all Essex routes.