Get Festive with First Bus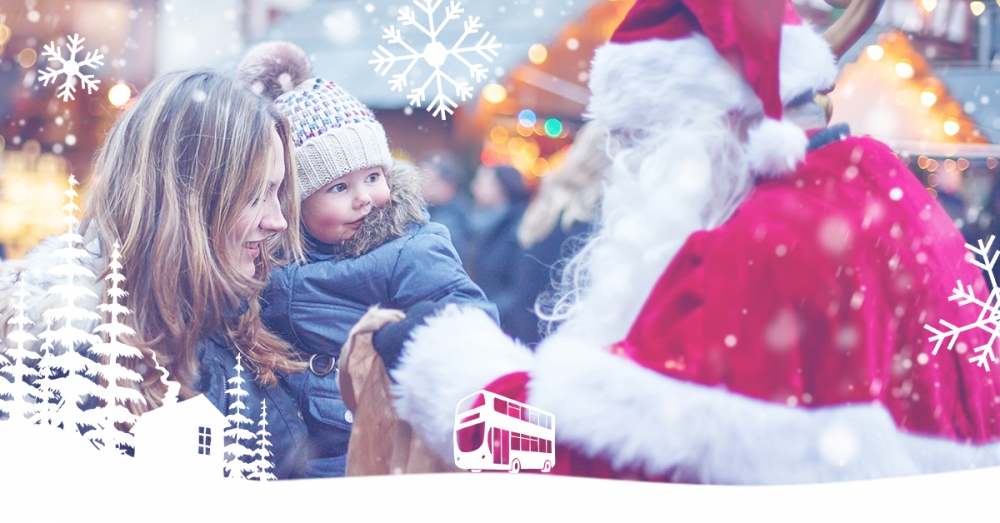 Get Festive with First Bus Doncaster!
With lots of fun festive events across Doncaster, and a bus to get you there from as little as £2, unleash the Christmas spirit and let us help you find some fun plans this festive season.

Doncaster Festival of Light, 24 November – 3 December, 17:00 – 21:00
Come together for the 5th Festival of Light in Doncaster Minster. This year they will be showcasing three artworks from Universal Everything, which will feature inside the minster.
Free event – accessible via all city centre services.
For more information, please visit: DN Festival of Light 2023 | Visit Doncaster
Christmas painting, wool market, 3 December, 11:00 am
Enjoy a festive morning of painting as professional artists will be on hand to give you guidance on how to paint your very own Rudolph. A great day for all the family.
Accessible via all our city centre services.
This is a ticketed event, more information can be found here: Pub Painting - The Wool Market, Doncaster - paint 'Rudolph' ❄️ Tickets, Sun 3 Dec 2023 at 11:00 | Eventbrite
Santa's Workshop of Wonder's 4 Nov - 24 December
Head on down to Frenchgate shopping centre for a magical festive experience. Enjoy a visit with Santa and his elves at his magical grotto this festive season, and receive a gift from the big man himself.
For full opening times, please click here: Santa's Workshop of Wonders at Frenchgate! | Frenchgate Shopping Centre
Accessible via 52/54, X4, 15, 81 and 82.
Frost Festival
Frost Festival is taking place from 23rd November – 29th January on Clock Corner, St Sepulchre Gate and the surrounding city centre areas.
The event will include visits from Mrs Santa Clause, Christmas Carols in the Square, festive cabins and so much more.
Click here for more details: Frost Festival | Visit Doncaster
Accessible via all city centre services.
Download our FREE First Bus App
Have everything you need to travel at your fingertips:
Plan your festive journey
Buy your tickets on the app
Track the bus to your stop