Space Checker

We'd like to introduce you to Space Checker, the brand new tool from Cornwall by Kernow to help you plan ahead and travel with confidence. Space Checker allows you to see when your favourite bus stop and service is typically at its busiest and choose a quieter time to travel.
Designed using recent passenger data, this new platform acts as a prediction of how much space will be available on your service - up to 7 days in advance.
As we navigate through working from home, flexible working and ever changing leisure needs - Space Checker allows you to travel with confidence and choose the best time to travel on your service.
All you need to do is simply select which bus service you want to take, select the direction in which you are travelling and then select your stop. Space Checker will then indicate the busy and quiet periods for the service and bus stop, whilst also providing alternative services.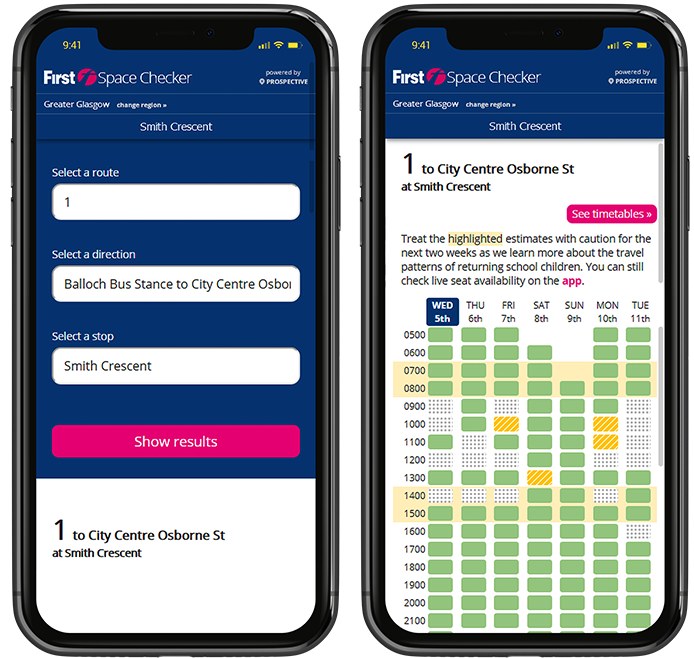 1) Select your route »
2) Select Your Bus Stop »
3) Select Your Direction of travel »
Your results will be displayed along with details of any other services that depart from your selected bus stop.
---
Space Checker Information
Please see below your questions answered on Space Checker.
How is this different from what you already offer?

You may notice on the First Bus App you can view the available seats on your bus as it approaches your stop. This app feature utilises real time information. Space Checker is designed to assist passengers planning their journey ahead of travel and identifies the time of day when your chosen service may be quieter. This does not display seat availability but will give an overview of your service up to 7 days in advance.

Can I plan further ahead than 7 days?

Currently the tool shows data for 7 days at a time. The information that we provide is a prediction. It's our aim to be as accurate as possible to provide a tool that you can rely on. Predicting further than 7 days means we won't be delivering the same level of accuracy.

What is classed as lots of space, some space and limited space?

This is a prediction, based on passenger data for each service and when your route may typically be at its busiest. We can't give a specific number of seats as different buses have different numbers of seats. There could also be different sized buses travelling via a stop during the hour slot that you're looking at. If you have to travel at a time when there is limited space or just want to know how many seats and wheelchair spaces are available, download our First Bus App which shows live seat availability.

Is this feature available on the app?

This tool is not currently built into the app, however you can find it here. Don't forget you can still use your First Bus app to check real time seat availability.