Vaccination Centre Travel Guide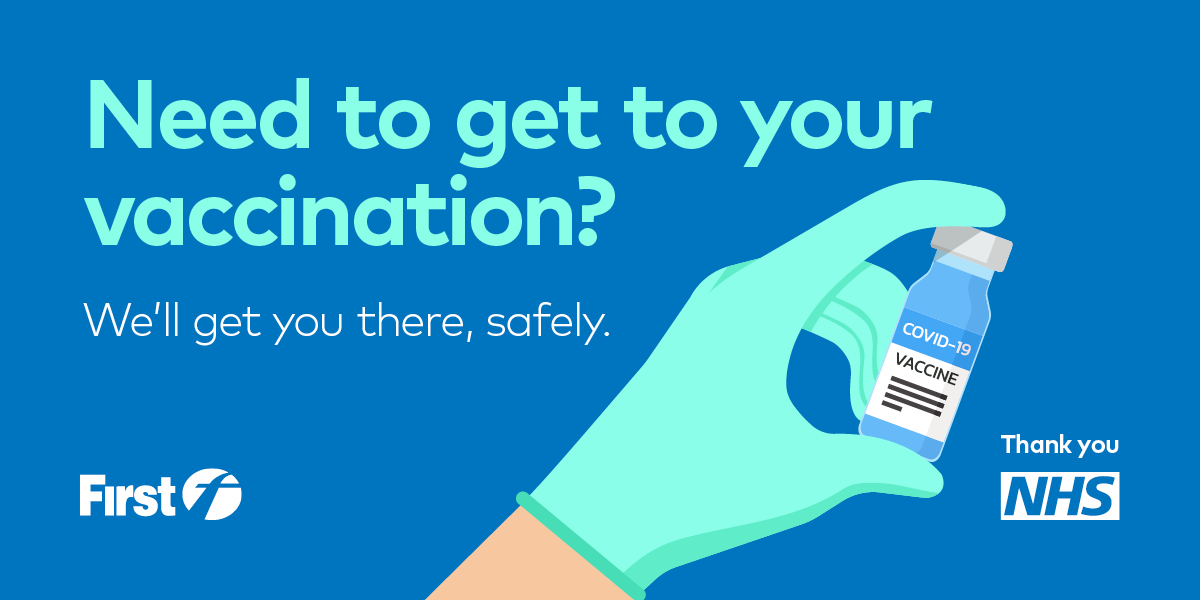 Our services are available for those who need to attend appointments at Vaccination Centres. Check out below the nearest bus services to each location, the best stop to use to get there and some important information about how to keep yourself, your fellow passengers and our staff safe while travelling. We will add more details as information about further locations is released.
Local Authorities have relaxed time restrictions on concessionary passes so pass holders can travel at anytime of the day, this is primarily aimed to assist travel to and from the vaccination centres. If you hold a concessionary pass the restrictions will be relaxed until these dates:
West of England Combined Authority until 30 April 2021.
North Somerset Council until 30 April 2021.
Somerset County Council until further notice.
Wiltshire Council until 8 March 2021.  
All up to date timetables and route maps can be found here. 
Ashton Gate Stadium Vaccine Centre

Local Services

Closest bus stop

24 – Southmead Hospital to Ashton Vale

Bath Street (towards Bristol)

Durnford Street (away from Bristol) (both 4 minute walk)

71 – Bristol Temple Meads to UWE Frenchay

X1/X2 – Bristol to Weston-super-Mare

X3/X4 – Bristol to Portishead

X6/X7 – Bristol to Clevedon

X8/X9 – Bristol to Nailsea

U2 – University of Bristol Campus – Langford

Winterstoke Road (away from Bristol)

Blackmoors Lane (towards Bristol)

(8 minute walk)

m2 – Long Ashton P&R to City Centre

Ashton Gate (9 minute walk)

Bath Racecourse Vaccine Centre

Special Service

A special service - number 32 - is running every 20 minutes from Bath City Centre (Bus Station bay 15) to Bath Racecourse, serving all stops along the way. The timetable can be found here and route map here. 

Normal Bath City ticket prices are in operation on this service, concession passes are also valid. 

Wells to Bath & West Showground Vaccine Centre

Special Service

A special, express service - number 175 - is running every 30 minutes from Wells Bus Station to Bath & West Showground, serving only Shepton Mallet Cenotaph along the way. The timetable can be found here and route map here.

Normal West of England ticket prices are in operation on this service, concession passes are also valid. 

Kingswood Health Centre, Kingswood

Local Services

Closest bus stop

6 – Bristol City Centre to Kingswood

Kingswood Health Centre (1 minute walk)

18 – Bath to Kingswood

19 – Bath to Cribbs Causeway

35 – Bristol to Marshfield

43 – Bristol City Centre to Cadbury Heath

Kingswood Library (2 minute walk)

Riverbank Medical Centre, Weston-super-Mare

Local Services

Closest bus stop

7 – Worle to Haywood Village

Kelston Road (5 minute walk)

5 – Worle to Hutton
Becket Road (15 minute walk)

The Greenway, Greenway Community Centre, Southmead

Local Services

Closest bus stop

2 – Cribbs Causeway to Stockwood

76 – Hengrove to Cribbs Causeway

Badocks Wood School (3 minute walk)

1 – Cribbs Causeway to Broomhill

Falcondale Walk (9 minute walk)

Pudding Pie Lane Surgery, Langford, North Somerset

Local Services

Closest bus stop

U2 – University of Bristol Campus – Langford

St Marys Gardens (8 minute walk)

Healthwest, Clifton College Preparatory School Hall

Local Services

Closest bus stop

8 – Bristol Temple Meads to Clifton

Bristol Zoo (5 minute walk)

1 – Cribbs Causeway to Broomhill

2 – Cribbs Causeway to Stockwood

3/4 – Cribbs Causeway to City Centre

72a – Bristol Temple Meads to UWE Campus

U1 – Stoke Bishop Transport Hub to City Centre

Clifton Down Station (15 minute walk)

Bridge View Medical Marksbury Road Branch, Bedminster

Local Services

Closest bus stop

90 – City Centre to Hengrove

Wedmore Vale (2 minute walk)

91 – City Centre to Hengrove

Park Avenue (9 minute walk)

75/76 – Hengrove to Cribbs Causeway

A2 – Bristol Airport to City Centre

m1 – Cribbs Causeway to Hengrove Park

Dalby Avenue (15 minute walk)

Horfield Health Centre, Horfield

Local Services

Closest bus stop

24 – Southmead Hospital to Ashton Vale

72/72a – Bristol Temple Meads to UWE Campus

Horfield Health Centre (1 minute walk)

70/71 – Bristol Temple Meads to UWE Frenchay

73 – Bristol Temple Meads to Cribbs Causeway

Lockleaze Road (3 minute walk)

75/76 – Hengrove to Cribbs Causeway

T2 – Bristol to Thornbury

Horfield Sports Centre (10 minute walk)

Brockway Medical Centre, Nailsea

Local Services

Closest bus stop

X7 – Bristol to Clevedon

X8/X9 – Bristol to Nailsea

Link Road (2 minute walk)

West Walk Surgery, Yate

Local Services

Closest bus stop

Y1/Y5/Y6 – Bristol to Chipping Sodbury via Yate

Y2/Y3/Y4 – Bristol to Yate

The White Lion (5 minute walk)

East Trees Health Centre, Eastville

Local Services

Closest bus stop

24 – Southmead Hospital to Ashton Vale

48/49 – City Centre to Emersons Green

48A – City Centre to UWE Frenchay

Robertson Road (3 minute walk)

5 – City Centre to Downend

Eastgate Centre (11 minute walk)

17 – Southmead Hospital to Keynsham

Heath Road (12 minute walk)

Christchurch Family Medical Centre, Downend

Local Services

Closest bus stop

18 – Bath to Kingswood

19 – Bath to Cribbs Causeway

Christchurch School (1 minute walk)

48 – City Centre to Emersons Green

Y2 – Bristol to Yate

Christchurch Avenue (3 minute walk)

7 – City Centre to Staple Hill

49 – City Centre to Emersons Green

Park Road (6 minute walk)

Shirehampton Group Practice, Shirehampton

Local Services

Closest bus stop

3/4 – Cribbs Causeway to City Centre

Priory Gardens (2 minute walk)

Portway Park and Ride 

Station Road (10 minute walk)

Portishead Medical Centre

Local Services

Closest bus stop

X4 – Bristol to Portishead

Post Office (4 minutes)

X3/X3a – Bristol to Portishead

X5 – Bristol to Weston-super-Mare

Combe Road (6 minute walk)

Severnview Family Practice, Thornbury

Local Services

Closest bus stop

T1 – Bristol to Thornbury

Health Centre (1 minute walk)

T2 – Bristol to Thornbury

Eastland Road (3 minute walk)

Stockwood Medical Centre

Local Services

Closest bus stop

2 – Cribbs Causeway to Stockwood

2a – Brentry to Stockwood

Hollway Road Shops (1 minute walk)

376 – Bristol to Street

Saltwell Avenue (12 minute walk)

Concord Medical Centre, Little Stoke

Local Services

Closest bus stop

19 – Bath to Cribbs Causeway

Y6 – Bristol to Chipping Sodbury via Yate

Farley Close (7 minute walk)

73 – Bristol Temple Meads to Cribbs Causeway

T1 – Bristol to Thornbury

Savages Wood Roundabout (14 minute walk)

If you are travelling, follow these tips so that you can arrive safely at your destination. We've got each stage of your journey covered:
Before you travel
Use the First Bus App to journey plan and buy your ticket
Use our Space Checker tool to find when your bus is less busy
Please bring a face covering as it is mandatory to wear onboard at all times, unless you are exempt. Click here for exemptions
Social distancing limits the bus capacity to 50%, so please allow additional time for your journey during peak times
Bring hand sanitiser
We encourage our customers to download the NHS COVID19 App
At the bus stop
Use the First Bus App to track where your bus is and the number of free seats available
Please social distance from other passengers waiting too.
Put on your face covering before you board the bus, it is a legal requirement unless you are exempt
When your bus arrives, please allow space for passengers to leave the bus before you step onboard
Get your payment method ready – mTicket on the First Bus App, contactless card, concessionary pass or the exact change
On board
We encourage customers to make cashless payments to avoid cash handling
It is a legal requirement to wear a face covering, unless you are exempt otherwise you could be fined up to £200.
Please follow the social distancing sashes to show you where to sit
Our windows need to remain open to maintain airflow
To assist others who are  less mobile, please sit upstairs on double deckers
We have increased our cleaning regime, but please help by not eating or drinking on board and removing any rubbish when you leave