From Bristol
Bath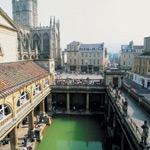 This remarkable Georgian city is brimming with things to do and see. It's renowned for art, culture and history with around 5,000 listed buildings. A wander around Bath reveals a treasure trove of interest and fascination.
Why not visit the Roman Baths, among the finest in Europe. Or retrace the footsteps of Jane Austen, one of Bath's most famous residents, or find out about 1,600 years of history at the Abbey Heritage Vaults.
The city offers a broad range of museums, galleries and shopping - all wrapped up in a compact, visitor-friendly centre that's a delight to explore.
Website: www.visitbath.co.uk
Services: Catch Service 37, X39 from Bristol Bus Station.
---
Cheddar

A major tourist attraction for over 200 years, Cheddar's caves are some of the most dramatic in Britain and with 400ft high cliffs, Cheddar is Britain's biggest gorge. The cathedral-like caves are over one million years old, carved out by Ice Age meltwaters, and include the magnificent Diamond Chamber and Solomon's Temple.
During the summer be sure to try delicious locally grown strawberries and treat yourself to some traditional Cheddar scrumpy cider.
Website: www.visitsomerset.co.uk
Services: Catch Service 376 to Wells from Bristol Bus Station, and change at Wells to Service 126 to Cheddar. Leave the bus at Tweentown and just a short walk away you can buy a Caves and Gorge explorer ticket in the Lakeland car park: a passport to all seven attractions at the Gorge, including the caves, 274 steps up Jacob's ladder and a guided tour of the Gorge on an open top bus.
---
Glastonbury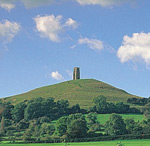 Glastonbury is a town steeped in history and reputed to be the site of the first Christian church in Britain. Glastonbury Tor is owned by the National Trust and can be seen from a great distance rising enigmatically above the Somerset Levels. At the top there are some breathtaking views. Glastonbury Abbey is set in 37 acres of beautifully peaceful parkland in the centre of town. It is rumoured that King Arthur is buried in the Abbey grounds beside Queen Guineviere. Take time to walk through the grounds and enjoy their peace and tranquillity. The Chalice Well and Gardens is another place of beauty in quiet surroundings.
Services: Catch Service 376 from Bristol Bus Station.
---
Wells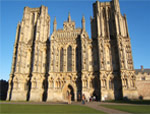 The ancient and very beautiful city of Wells lies on the slopes of the Mendip Hills. Travellers from all over the world come to explore the unspoilt streets of this city and to visit the splendid cathedral. Wells Cathedral is one of the most attractive and greatest architectural treasures in the area with one of the largest collections of medieval sculptures in the world.
Website: www.visitsomerset.co.uk
Services: Service 376 leaves Bristol Bus Station for Wells.
---
Weston-super-Mare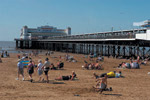 Weston-super-Mare has it all - miles of clean sandy beaches, traditional seaside attractions, picturesque parks to relax in and special events planned all year round. Get a bird's eye view from the Weston wheel and have a ride on the famous Weston donkeys. Don't forget, no trip to the seaside would be complete without fish & chips!
Take a boat to Brean Down peninsula or Steep Holm Island or perhaps a trip to Sand Bay on one of our open top buses. There are also designated areas for watersports on the beach. Bring along a picnic or choose one of Weston's many restaurants and cafés - there's something to suit all taste buds - from traditional fish and chips to Greek and everything in between.
Website: www.visitwestonsupermare.com
Services: Catch Service 1, X1 from Bristol Bus Station.