Coronavirus - COVID19: Service information
Last updated: 10/09/2021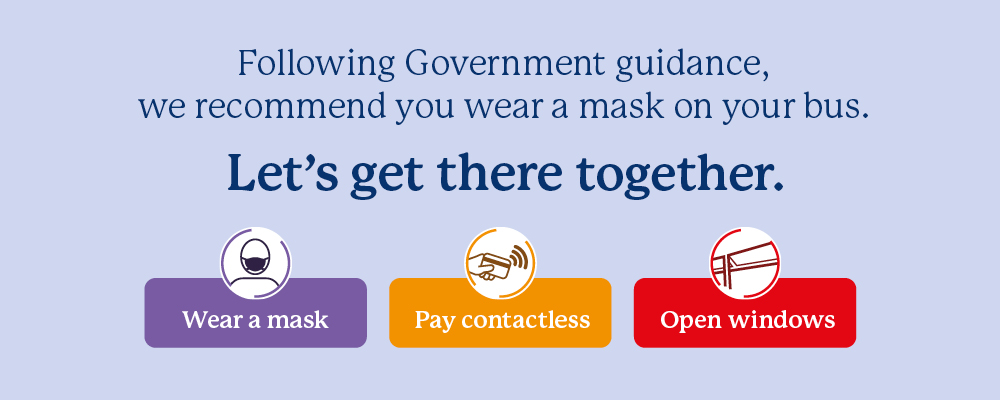 Coronavirus information – Berkshire
---
Lockdown restrictions easing on Monday 19 July
Following The Government's announcement on lockdown restrictions easing from 19 July, we wanted to take the opportunity to remind you of some of the measures we have in place to keep our customers safe when travelling on our buses, so here's a guide for when you get on board. 
Wearing masks
We are following government guidance and recommend all customers wear a face mask whilst on board. Please remember that not everyone may wish to wear a mask.
Ventilation & Cleaning
We will continue to ensure that all windows are left open for additional ventilation in addition to our enhanced cleaning regime which will remain in place to keep you and others around you safe.
Social distancing
All seats will be in use from Monday 19 July and our buses will return to full capacity making sure we can take you to where you need to go.
Paying for your journey
Where possible avoid the use of cash and continue to use contactless on board or buy in advance using our mobile app. 
Over the coming days we'll be updating the Covid related content on our websites.
Let's get there together.
---
Change to service 8/8A and introduction of Service 8B from Sunday 19 September 2021
From Sunday 19 September there will be a timetable change on services 8 and 8A. There will also be an introduction of a service 8B, which will operate between Royal Holloway College and Egham Rail Station. You can view and download the new timetable below:
---
Berkshire Sale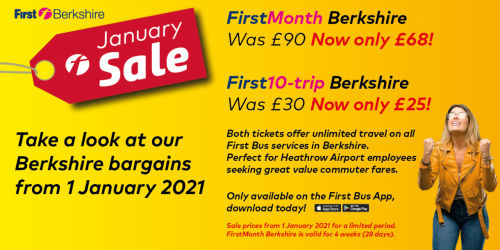 Travel regularly and looking for a bargain?, then take a look at our Berkshire bargains from 1 January 2021, only available on the First Bus App. These ticket bargains will run until further notice.
It's really easy to download the First Bus App from the App Store or Google Play.  When downloaded select 'mTickets' at the bottom of the screen, then select 'Buy' and then 'Berkshire' as your selected area. These bargain tickets can then be found in the ticket category by looking for First Month Berkshire or First 10 Trip Berkshire.
Once the ticket has been purchased and activated, simply present the ticket code to the ticket machine on the bus.
For the very latest timetable please click here.
We've got each stage of your journey covered so that you can arrive safely at your destination.
Before you travel
Use the First Bus App to journey plan and buy your ticket
Use our Space Checker tool to find when your bus is less busy
Please bring a face covering as it is advisable (but not mandatory) to wear one from 19 July 2021
Bring hand sanitiser
We encourage our customers to download the NHS COVID19 App
At the bus stop
Use the First Bus App to track where your bus is and the number of free seats available
Put on your face covering before you board the bus.
When your bus arrives, please allow space for passengers to leave the bus before you step onboard
Get you payment method ready – mTicket on the First Bus App , contactless card, concessionary pass or the exact change
On board
We encourage customers to make cashless payments to avoid cash handling
Our windows need to remain open to maintain airflow
To assist others less mobile, please sit upstairs on double deckers
We have increased our cleaning regime, but please help by not eating or drinking on board and remove any rubbish when you leave
---
We're here for you
Contact us by phone 0345 646 0707 (9am to 5pm Monday to Friday) or contact us via Twitter 7am to 7pm Monday to Friday or 9am to 6pm on weekends and bank holidays.
For further COVID information, our question and answer section plus key worker feedback click here.

---
Important information and links:
Please visit the NHS website for up to date information on Coronavirus (COVID-19).
The latest information on the current situation can be found online and is updated by the Government.
---
Ticket Refund Queries
At present, our services are still operating and tickets are purchased in line with our Conditions of Travel. However, the latest guidance on ticket status can be viewed on our help and information page here (FAQ section).
For important extra information please see here: