Message from the Managing Director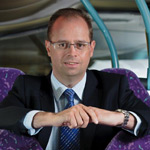 Welcome to the First Berkshire website. Here, you will find all the information you need, including timetables, maps, tickets and the brand new journey planner, to make your travel with us as pleasant and easy as possible.
First's Berkshire bus and coach network offers a reliable network of services for workers, shoppers and visitors wanting to travel either locally or to Heathrow Airport.
Working in partnership with local authorities and other stakeholders, First Berkshire is always seeking new ways to encourage more passengers to use our services and leave the car at home.
Our Railair link between Reading Railway Station, Guildford Railway Station or Woking Railway Station to Heathrow Central Bus Station and Terminal 5 have been upgraded and rebranded. The coaches running on these services now have up to date features such free wi-fi and USB chargers to enable travellers to work and communicate while on the move.
Reading Station's Railair lounge provides a comfortable, welcoming place to relax before and after your journeys.
Marc Reddy - Managing Director