First Bus announces app update to live-track bus capacity
This week we will be launching an update to our mobile app that will enable customers across the UK to live track not only the location of their next bus but also its available capacity, as we continue to develop ways to help customers social distance on board our fleet.
First Bus will be the first major bus operator to roll out live capacity tracking. This reduces uncertainty for customers and allows them to make informed decisions about their essential journeys. Going live this week, the app update will show customers a bus icon on a map depicting the live location and available capacity of each vehicle in the vicinity. This new functionality will provide customers with the information they need as the bus approaches.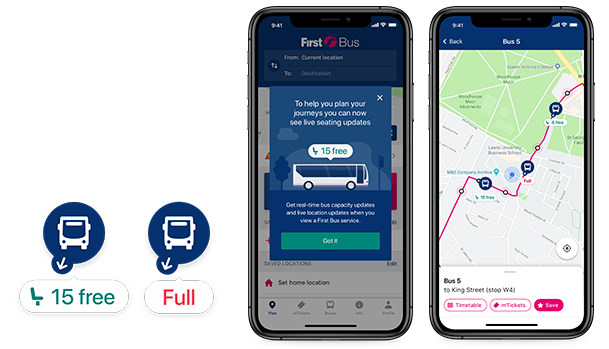 The innovation has been made possible by First Bus's new passenger counting functionality, announced at the end of May. Data from this system feeds directly to the First Bus app in real time. This app update coincides with First Bus doubling the number of buses operating across England from Monday 1 June, with support from UK Government. First Bus expects to be able to increase service levels across its networks in Scotland and Wales in coming weeks.
With social distancing guidance being observed at the same time as lockdown restrictions are being relaxed, this additional capacity will allow customers to travel in comfort and safety. To further support social distancing, and in addition to passenger counting, seats on each bus are now clearly marked indicating where customers should sit.
First Bus continues to encourage cashless payments, and use of the First Bus App to purchase mTickets, to reduce the need for contact between customers and drivers.
Giles Fearnley, Managing Director of First Bus said "We are really proud to have been able to fast-track this technology to ensure safe, informed travel during these difficult times. Our buses provide an essential service for our customers and we are doing all we can to support them."
This latest update from First Bus forms part of its ongoing work to improve the customer experience.
 
.
N.B:
The app update will be available from Apple and Android app stores during the first week of June 2020
Dependent on individual phone user settings, the app may automatically update or require the phone user to manually select to update to the latest version 4.7
The app update is available to all First Bus app users in the UK and any customers downloading the app for the first time after the update will automatically have the live tracking functionality
First Bus is one of the UK's largest bus operators. Making journeys easier for our customers, we were the first national bus operator to accept contactless card payments across all of our services and our First Bus App is voted 'best in class' amongst UK bus operators. Our most recent investments are in new, state-of-the-art buses across our key networks. We work proactively with our local authority partners, making a positive impact on air quality, tackling congestion and improving customer experience. We also operate the Aircoach network in Ireland.