Making Buses a Better Choice
Making Buses a Better Choice - Hampshire
In 2013 First Bus, in partnership with Solent Transport, was successful in securing 'Better Bus Area Funding' to improve the overall customer experience of bus journeys in South Hampshire.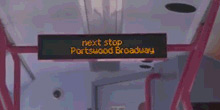 The project saw the installation of free wi-fi across all First's 280 strong fleet in the area, enabling customers to keep connected whilst on the move. In addition, all buses were fitted with 'Next Stop Announcements' and 'Next Stop Displays'. Furthermore 64 vehicles were refurbished whilst the entire fleet benefited from the installation of LED lighting, helping reduce energy consumption.
First Bus and its partners recognised that free wi-fi and the ability to be productive, making better use of time whilst on board was a key motivator in encouraging people out of their cars and on to the bus. And with the booming growth in smart phone sales, particularly amongst young people, the youth market was a specific target.
One of the challenges in attracting new customers is overcoming their anxiety in knowing when to alight the bus. This is also true for the seasoned bus user when travelling in a new area. The ability to provide next stop information, both visual and audio, was a significant step in breaking down this barrier.
The scheme has worked well and contributed towards some healthy passenger growth across the First Bus Hampshire business; between April 2013 and April 2015 passenger volumes grew by 5.7%.