Meet John - the World's First Hydrogen Bus Driver!
Meet John - the World's First Hydrogen Double Decker Bus Driver
Hi, I'm John Gillies, and I'm officially the world's first fully trained double decker hydrogen bus driver. On Thursday, 28 January 2021 at 05:16am, I will take the first of our fleet of 15 new hydrogen buses out the depot and onto the streets of Aberdeen.
I was trained in how to operate the new hydrogen buses when they arrived in the autumn last year and it was such a proud moment for the whole staff to receive the very first hydrogen double decker bus in the world to our King Street depot. I've since been itching to introduce the new buses to customers, and I can't wait to drive it on the service 19 route around the city.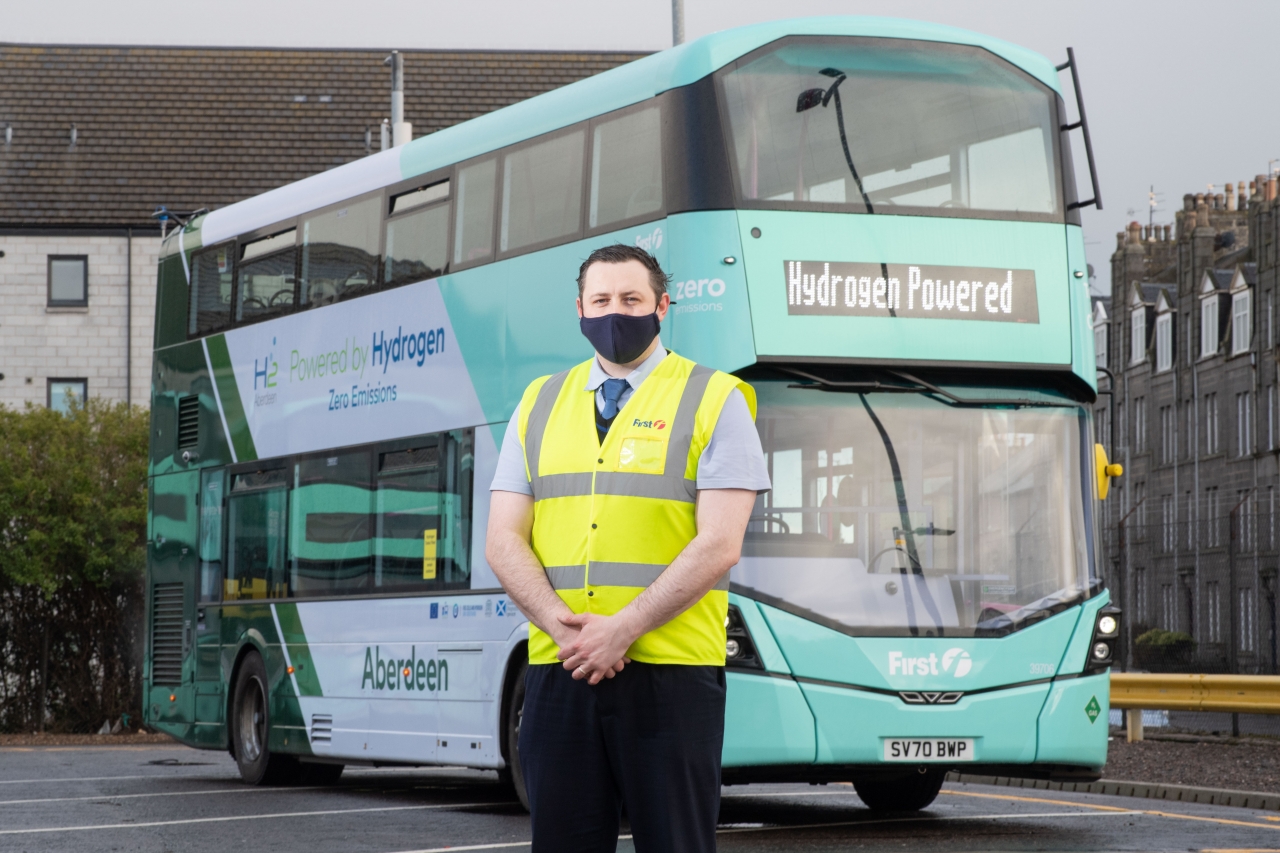 The buses look great, but once you're on board the first thing you notice is how smooth they feel – it makes for a really comfortable drive, and I think the customers are going to love that. They're a lot quieter too, which makes bus travel all the more relaxing!
As a driver, though, a key difference to driving a diesel bus is that the hydrogen buses get up to speed a lot quicker, so part of our training has involved being sensitive to that and making sure we have good control over these highly efficient vehicles.
I've been a bus driver for 15 years, so it's very much part of my identity now – I even met my wife at First Bus, back when she was a fellow driver, and we now have a one-year-old son together. I'm originally from Rutherglen, Glasgow, and I started out as a butcher when I left school. But a friend of mine who was working as a bus driver at the time inspired me to follow in his footsteps.  I could see how much he was enjoying the job and it felt like the perfect opportunity to do something that was rewarding and a little different.
Since then, I've never looked back. I love going to work, and it feels that bit better to know that I'm working for a company that's investing in the future and helping to protect our environment for generations to come. With each kilometre that these new buses cover, they prevent 1kg of CO2 from entering the atmosphere - that's a huge saving of 84 tonnes of CO2 emissions each year, so it's going to make a huge difference to the air quality of Aberdeen.
In my spare time, almost all my attention goes to my young family – but if I get a moment to himself, I like to relax by online gaming. It's good fun, and I genuinely believe that it's helped by hand-eye coordination, response time and observation when I'm behind the wheel.
As bus drivers, we're constantly alert and looking out for potential hazards on our route; it's very similar to the way that I scan for anything that looks different, or out of place, in the games I play. I also love a good game of football when we're not in lockdown, but while I can't keep active in the same way of late, it's great to know I'm keeping my mind sharp!
All the drivers and I at First Aberdeen have now been trained in how to refuel, maintain and operate these state-of-the-art hydrogen powered vehicles. The hydrogen fuel that they run on is made from just wind and water, and Aberdeen will soon be making its own hydrogen to power these buses. Local fuel for the local community – you can't get much better than that!
I'm really excited to be the world's first double decker hydrogen bus driver and I'm looking forward to hearing what our customers think of the new buses. The zero-emission fleet should help to support the wellbeing of locals in Aberdeen, as no pollutants that can harm respiratory and cardiovascular health are released though the buses' exhausts.
With that in mind, I really hope that these buses will help to encourage new customers on board, too, when we're able to all get out and about again. There'll be a friendly face ready to welcome you on board – and it might even be that of the world's first hydrogen bus driver!