An introduction to our new Hydrogen Buses!
As First Aberdeen officially launches the world's first hydrogen double decker buses, we take a look at the feat of engineering that's gone on behind the scenes at the King Street depot to make way for the new fleet.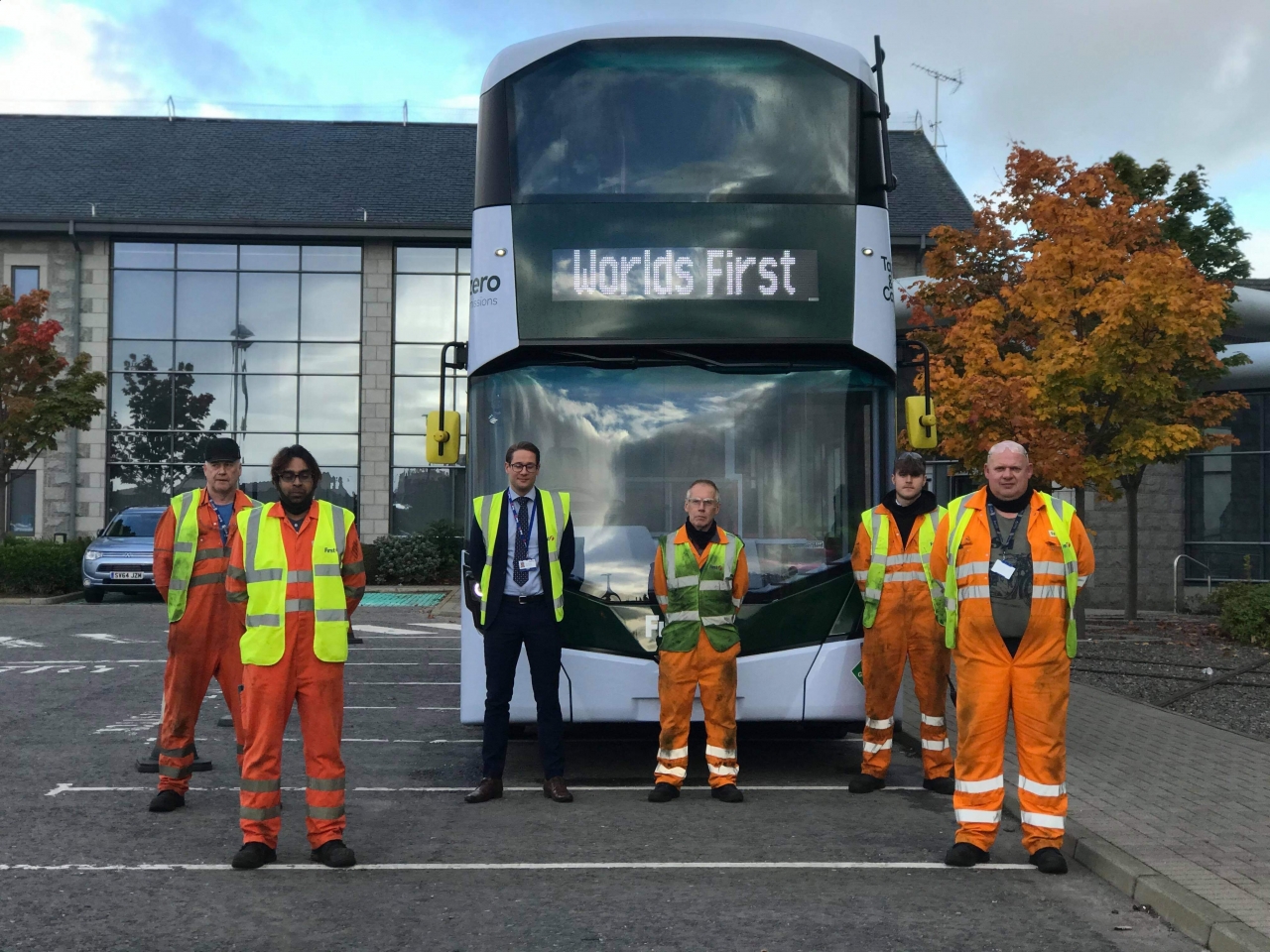 As our new, emission-free buses go into service around Aberdeen, there will be clear differences that members of the public will notice: the hydrogen buses are smoother to ride, they make very little noise and, of course, they look modern, shiny and out of the box new! But while our customers enjoy these positive changes out on the streets of Aberdeen, many will be unaware that there has been a great deal more change taking place back at the depot to prepare for the fleet's arrival. 
Our King Street depot has undergone significant alterations over the past eight weeks to accommodate the city's 15 brand new hydrogen buses. Hydrogen vehicles have different requirements to our traditional diesel buses, so we have assigned them their very own section of the depot. To allow for this, the layout of the entire King Street space has had to be remapped. But perhaps one of the biggest pieces of work that's been undertaken in recent weeks has been installing the electrical points that are needed at each of the hydrogen parking bays. When the hydrogen buses aren't out in service, they need to be plugged in at their docking point so that their temperature can be monitored. The bi-product of hydrogen fuel is water, so it's essential that the buses are kept above 5°C to ensure that the pipes their pipes do not freeze and rupture. To make this happen, a fully trained team of engineers needed to dig up a large section of the depot floor and lay electric cabling underground so that each parking bay could be fitted with its own plug socket.
Electric sensors have also been installed in the depot roof to monitor the level of hydrogen in the atmosphere. Doing this ensures levels are kept within an optimum variant if work is being carried out and that there are no leaks. The sensors are programmed to sound an alarm if they detect levels going above that variant, which prompts venting points in the ceiling to open automatically with the doors of the depot. Furthermore, the buses themselves release gas though a venting hose in the vehicle roof. This lets all the hydrogen out of the depot and into the open air where it is safely dispersed.
Engineering Manager Michael Smith, who has been responsible for overseeing the changes at the depot, said: "The arrival of the hydrogen fleet marks a major milestone for both customers and transport as a whole. Hydrogen operated vehicles will make a significant difference in many ways. Like anything new, we have spent a lot of time and investment ensuring the depot is fully fit for purpose, for the fleet as well as those working here. To manage the requirements of hydrogen, we've got a brilliant automated response system in place to ensure that everything is as safe as possible. We've also worked closely with the local fire brigade and independent risk assessors, to make sure that every 'What if?' scenario has a clear plan in place."
Even the lighting at the depot has been part of the remapping and alteration programme. All the lights have been refitted with grounding points, so that there is no risk of sparking around the hydrogen-fuelled fleet.
Michael said: "There have been countless things to think about, but thanks to our great team and collaboration from the local fire brigade, everything has run really smoothly. In some ways it's quite nice to know that the public is none-the-wiser about the significant work that's been taking place; it's credit to the great job that everyone's done.
"King Street depot has played an essential role in driving key workers to and from their jobs over the last year, so it was of paramount importance that our engineering work didn't interfere with our day-to-day operations. It's certainly been challenging from a logistical point of view, but we're lucky that we've got a good amount of space in the depot, so we could reorganise what went where, and keep everything running.
"Fitting out a working depot to accommodate a hydrogen fleet is essentially unchartered territory for the bus industry. We're really proud with what we've achieved and are excited to be known as Europe's hydrogen capital as we embrace alternative fuel to meet our wider net zero ambitions."  
Aberdeen's new hydrogen buses release no harmful emissions. The buses are clean and green, and only emit water from their exhausts. First Bus is keen to understand the operational performance of these vehicles as the company travels on its own journey towards achieving a zero-emission fleet by 2035 across the whole of the UK.