Community involvement programme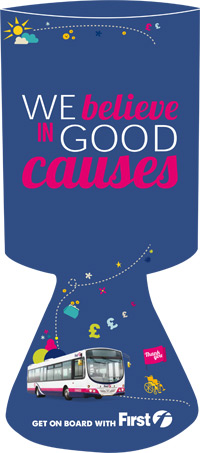 We've been keeping Aberdeen moving for over 15 years and our fleet of low floor buses carry on average over 50,000 customers a day. We serve almost all areas of the city through a network of cross city centre routes.
No other operator runs as many journeys in the city of Aberdeen as we do.
That's why First Aberdeen is committed to making a real difference to the communities in which we operate by supporting a wide and varied range of charitable causes and community organisations.
Our Community Involvement Programme will consider both financial and in kind contributions. All external applications must be supported in writing, by a First Aberdeen employee. Applications received without the support of a First Aberdeen employee will not be considered.
So, if you have a local charity, group or club who need some help, then submit your application today with details of who, what, where and why we should support your group.
Applications can take 6 to 10 weeks to process, therefore please ensure your application is submitted well in advance of your required financial commitment or activity date.
We will always store personal details securely. We'll use them where they are necessary to provide the products and services that you have requested. Our Privacy Policy sets out the basis on which any personal data you provide to us will be processed.
Applications can be sent via post to:
First Aberdeen Ltd
395 King Street
Aberdeen
AB24 5RP
Any decision made by First Aberdeen with regards to requests for funding, either in kind or financial, is final. First Aberdeen will not, under any circumstances, enter into any discussion with an applicant regarding any decisions made.